Innovation must not risk environment - EA director Fox
Water companies must show they have "earned the right to innovate", Environment Agency director Pete Fox told the WWT Sustainable Water Conference in Birmingham yesterday (18 September).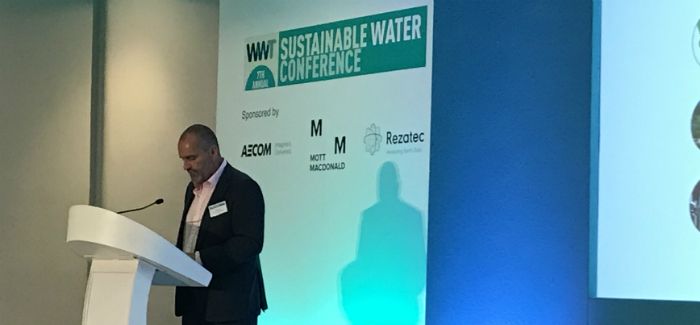 EA director of water, land and biodiversity Pete Fox addresses the conference
Conference quotes
"Leaving the EU does, whatever you think about it, present an opportunity. The Government is committed to delivering a green Brexit that will not weaken our environmental principles but put them at the heart of our country."
Sarah Hendry, director of water and floods, Defra
"Working in partnerships means bringing together different knowledge and different objectives that you can bring together as a common objective, and you can be far more efficient in how you fund things and create different ideas. Partnership working is a fundamental tenet of how we will operate in the next AMP period and how we will solve some of the environmental problems that are before us."
Graham Southall, commercial director, Northumbrian Water
"We are looking forward to an ambitious per capita consumption target from Government in their statement this autumn. It's incumbent on all of us to come up with things that can convince the Treasury that water efficiency is important."
Nicci Russell, managing director, Waterwise
"A lot of people see metering as the solution to all their problems. It's not. It's the start of developing a new relationship with the customer."
Ben Earl, water efficiency manager, Southern Water
Numerous speakers at the event talked of the need for new ideas and collaborative working practices to tackle the growing challenges facing the environment.
However, Fox, who works as the regulator's director of water, land and biodiversity, stressed that new ideas must not come at the cost of serious environmental damage, saying the regulator was adopting a 'yes, if...' policy to innovation.
"Innovation implies risk and the environment suffers if we don't do it right," he said. "Unfortunately, as the regulator, I'm going to be a guy who says: 'Show me it works and then we'll talk'. Nobody will thank the Environment Agency if the environment suffers.
"As a hard-bitten regulator, I will want to be assured the company has earned the right to innovate."
He offered an analogy for the Environment Agency's role.
"Working for the Environment Agency sometimes feels a lot like being a goalkeeper for a football team," he said. "You're stood in the goal, all the game is happening in front of you. Actually, you can probably see it better than most of the players on the pitch and you can see what's going to happen, but it's hard to influence except when the opposition charge towards you.
"That's when your part comes in and you're only person in the team who can pick the ball up. One thing you can do is fail. If you fail to do your job, the opposition score the goal and may end up winning.
"It's very difficult to recover and win the match. We aren't responsible for scoring goals."
Earlier in the conference, questions on how the regulators should try to drive innovation and allow water companies the chance to fail were met with a range of responses, with Sarah Hendry, director of water and floods at Defra, suggesting there may be room for some more flexibility to incentivise water companies to try new things.
Cardiff University professor of ecology Steve Ormerod, chairing the conference, said he would be "nervous about allowing failure" on the wastewater side, though, explaining: "Sometimes these problems can take a very long time to restore. I think there is a need for care."
Ed Mitchell, director of environment and sustainability at Pennon Group and wastewater operations director at South West Water, said: "People are not too forgiving when things go wrong.
"We've got to find a way where you can work together and take manageable risks in a way where it doesn't feel you're going to get hung out to dry when it goes wrong. Working in partnership can feel scary and we've got to get over that."
The WWT Sustainable Water Conference was sponsored by AECOM, Mott MacDonald and Rezatec