Innovation chief calls for collaboration at NWG festival
Innovation needs to be more visible and include ideas from a wide range of people across all disciplines, according to one of the leading experts speaking at Northumbrian Water Group's Innovation Festival.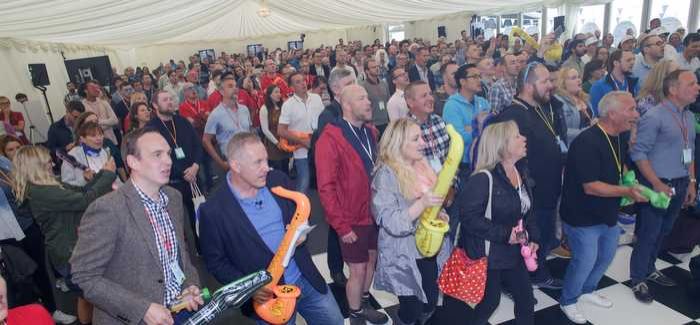 Attendees were in lively mood at the opening of the unique innovation festival
Hans Moller, the North East Local Enterprise Partnership's Innovation Director, spoke to hundreds of delegates including businesses, academics and young people, as they looked to tackle key environmental and social issues at the first event of its type in the region.
He said: "Until 10 to 15 years ago, corporations tried to deal with innovation internally. They had huge research and development departments and budgets. But in the modern innovation context, the process of bringing ideas into prototyping and into the market is so quick that you don't have time to spend years and years with your internal department, waiting for something to happen.
"When you have your engineering and research and development teams focussing on their own challenges, they don't think outside the box. You have to bring in ideas, wherever they come from, and you have to be open to them.
Innovation is extremely important to the North East and is at the heart of the Strategic Economic Plan drawn up by the LEP, said Moller. Post-Brexit, innovation will be even more important to stay competitive as well as coping with the challenges of sustainability and climate change.
"I think it's an absolutely amazing decision from Northumbrian Water to go with this," said Moller. "It's exactly what I think companies need to do, because it's about promoting and explaining innovation internally and externally, and making it visible to people, because that's one of our challenges: dealing with and supporting innovation and making it visible."
The NWG Innovation Festival aims to engage the best innovative minds, using design 'sprint' thinking to explore and create new solutions to some of the biggest social and environmental challenges we face. 'Sprints' apply leading design thinking techniques to problem solving. Around 400 people a day are expected on site for the festival, including representatives of a wide range of businesses, academia and members of the public – young and old.
The festival is supported by headline sponsors IBM, Microsoft, Reece Innovation, CGI, Ordnance Survey and BT, who will be leading the search for answers to other big social and environmental questions.
Heidi Mottram, Chief Executive of Northumbrian Water Group, said: "We started planning the festival with some ideas, but when we started talking with partners and people who come at things from a completely different perspective, things were started to be added in, saying what about this and what about that.
"We've got global, leading businesses, like Microsoft, IBM, CGI, BT and Ordnance Survey, as well as Reece Innovation, who are more local, but still very much like that, on board and they have taken it and put it in a different place. So, now what you are seeing in the sprints is the result of people bringing new ideas, and our ideas in areas like waste water and water being pushed and pulled and built on."
The big questions under consideration at the festival are:
• 'Rain, Hail or Shine': How can we reduce flooding? Led by headline sponsor IBM
• 'Keep It Flowing': What do we know about leakage from water pipes and how can we fix it? Led by NWG, alongside a Microsoft-led Hackathon of data relating to leakage.
• 'Preparing for the Future': How do we upgrade our infrastructure for the 21st Century effectively and affordably? Led by headline sponsor Reece Innovation
• 'Tomorrow's World': What will living and working look like in 2030? Led by headline sponsor CGI
• 'How Green is Your City?': What can businesses do to improve the environment in the North East? Led by headline sponsor Ordnance Survey
• '21st Century Reach': How can we optimise a mobile workforce for a complex network business? Led by headline sponsor BT
The NWG Innovation Festival is also being delivered in association with Newcastle University, Durham University, Genesys, Interserve in partnership with Amec Foster Wheeler, Costain Resources, PC1, Tech Mahindra, Mott MacDonald Bentley (MMB), Wipro, Virgin Media Business, Schneider, Wheatley Solutions, Sopra Steria, Accenture, 1Spatial, Infosys, Unify, ITPS, Esh-MWH, and Pen Test Partners.
More details are available at https://innovationfestival.org/.