Imtech and Affinity Water 'stand down' for health and safety
Imtech Water, Waste and Energy organised a 'Stand Down' day recently at Affinity Water's Rye Hill Water Treatment Works in Harlow to promote health and safety awareness in the workplace. Around 40 attendees from Affinity Water and Imtech attended the event.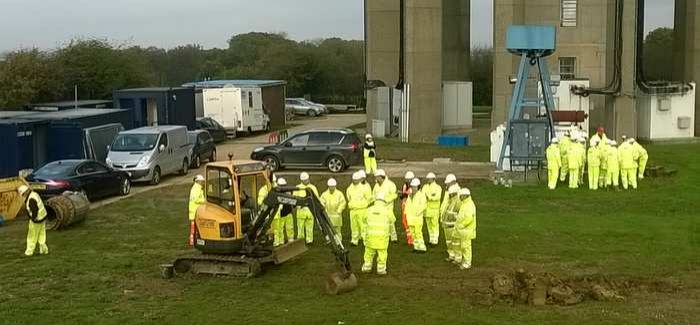 Forty staff took part in the 'Stand down' day at Affinity's Rye Hill WTW in Harlow
Both site and office-based employees were invited to the day, which was supported by the Imtech team, Affinity Water and civil subcontractor Design Supply & Install. The event included hazard spotting on a 360° excavator, with a  number of deliberate faults added to it, followed by a discussion on what can go wrong, and what to look out for when working around a plant and equipment.
The group also gained an appreciation of what is involved in maintaining and operating plant equipment. The stand down session also included an appreciation session on the use of Cable Avoidance Tools and a Signal Generator, as well as a number of other exercises.
Richard Hofton, Imtech's new operations director, said: "I was very pleased to have the opportunity to take part in the day, and I was impressed with how seriously Imtech and Affinity Water take health and safety.  It's important that health and safety issues are kept front and centre in all work that we carry out, and this is equally important to employees based on site or in the office."