Iconic Abbey Mills pumping station to run on renewable energy
Abbey Mills pumping station, once powered by steam, is getting ready to run on 100 per cent renewable energy thanks to a Thames Water project happening under the streets of Newham.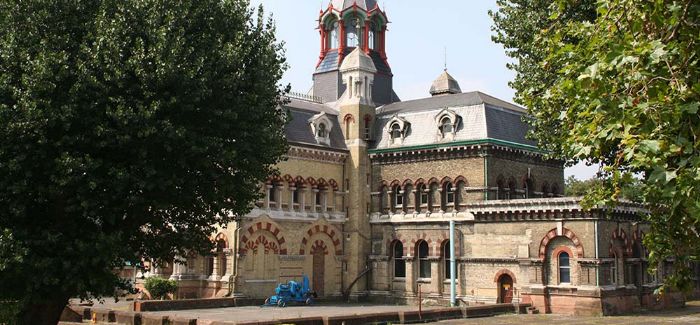 Abbey Mills pumping station was built by Sir Joseph Bazalgette between 1865 and 1868
When built by Sir Joseph Bazalgette 150 years ago, the 'Cathedral of Sewage' was powered by eight steam operated beam engines, all still inside the architecturally stunning pump house, before it was converted to electricity in the 1930s.
The project to link the east London site to Beckton sewage works via an 8km copper cable – through an existing duct – will now mean all of its power will come from renewable sources, rather than the national grid.
Thames Water has generated green energy at Beckton using a wind turbine, solar panels and sewage, heated at high temperatures to produce biogas which is then converted into electricity, for many years.
Angus Berry, Thames Water's energy manager, said: "By powering Abbey Mills with electricity from Beckton's renewable sources, including the sewage that is pumped between the two sites every day, we're making it more resilient as it won't rely on power from the grid. To modify a site built by the Victorians to run on 21st century green energy is a real achievement for us as we look to create a more sustainable and greener business.
"We're extremely proud to be an industry leader in producing electricity from renewable sources. By doing this we're protecting the environment and reducing costs, which in turn keeps customer bills down."
As part of its £11.7 billion business plan covering 2020-25, Thames Water will continue to invest in renewable energy solutions, and aims to generate enough electricity to power the equivalent of 115,000 homes. Energy from sludge, together with wind and solar power, generated more than one fifth of the company's energy needs last year, reducing greenhouse gas emissions and saving the equivalent of £30 million in energy costs.
Abbey Mills pumps around 230,000 litres of wastewater a day on to Beckton sewage works – the equivalent of about 100 Olympic swimming pools – and can process four times that on rainy days. Work on the cable project began in early 2018 and is expected to be completed in mid-2019.