ICE launches exhibition showing water's 'superheroes'
The Institution of Civil Engineers (ICE) has launched a new exhibition on water engineering as it continues to promote civil engineers as the unsung heroes who transform people's lives.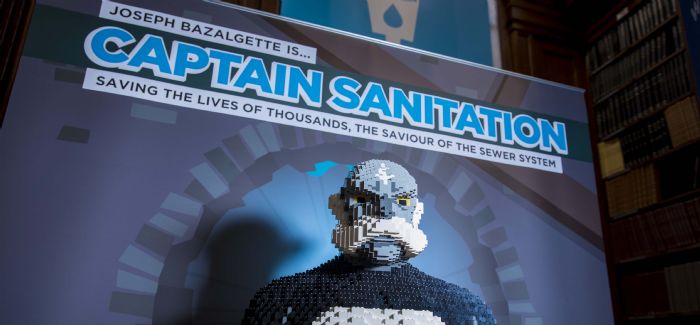 'Water: From Source to Tap', launched to coincide with World Water Day on 22 March, follows on from ICE's 'Invisible Superheroes' exhibition, with real-life engineers from past and present reimagined as cartoon superhero alter-egos, fighting fatbergs and flooding, and saving lives through the provision of clean water and sanitation.
Through highlighting the stories of individual engineers and examples of water-related projects around the world, the exhibition hopes to inspire children and young people to consider careers in civil engineering.
The free exhibition is being held at ICE's Infrastructure Learning Hub in London until February 2020, and installations include Sir Joseph Bazalgette's Captain Sanitation character built of LEGO bricks and a giant Fatberg Monster sculpture.
The exhibits celebrate Bazalgette's 200th birthday this year and his pioneering work in creating the London sewer system, while also highlighting the modern-day challenge of fatbergs.
Ayo Sokale, a graduate civil engineer who works in flooding and coastal risk management, appears in the exhibition as Eco Angel.
"Our profession is responsible for creating solutions to humanity's major challenges, which are growing due to climate change and a rising population," she said. "Therefore, we need a diverse range of people with different experiences and ways of thinking to help formulate the answers.
"By showcasing the wealth of different roles and the difference they make to society, we can demonstrate how rewarding and creative a career in civil engineering can be."
The exhibition also aims to raise awareness of fatbergs. ICE research has found that that nearly 40 per cent of UK adults remain unaware of fatbergs, with significant percentages of people flushing fatberg-causing items.
Martyn Harvie, a principal civil engineer who appears in ICE's water exhibition as Drainage Dyno, said: "Fatbergs are a growing problem for society today and urban areas are particularly affected, with their older infrastructure and dense populations. People are prone to 'flush and forget', not thinking about the environmental consequences. But responsible water management is vital for a sustainable future.
"By revealing the secrets beneath the sewers, ICE hopes to warn people 'Don't Feed the Fatberg' and raise awareness of all the behind-the-scenes work that civil engineers do to manage our precious water resources."
For more information on 'Water: From Source to Tap', visit: https://www.ice.org.uk/events/exhibitions/water-exhibition