Huge pipe-pushing machine imported for Thames work
Thames Water alliance eight2O has used a giant pipe-pushing machine to reinforce Victorian pipework in Surrey - the first time such a machine has been used in England.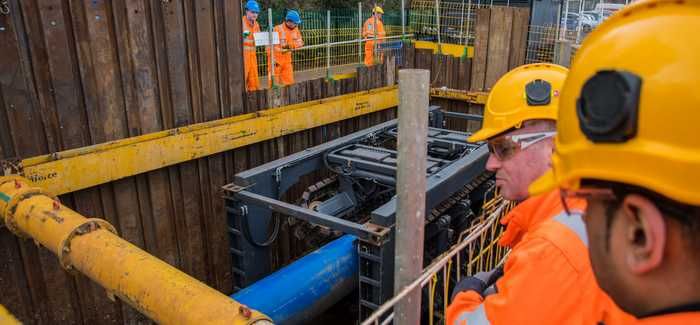 The pipe-pushing machine in place in New Malden
The pipe-pusher, capable of producing a staggering 100 tonnes of thrust, has been commissioned from Dutch company Gebr. van Leeuwen Boringen BV, and is being used as part of a £5.5M scheme to re-line cast iron trunk mains near Raynes Park, New Malden.
The beast of a machine will help reduce the risk of interruptions to water supplies for the 82,000 Thames Water customers who are connected to the pipes, and also reduce the risk of emergency road works.
Secured in a large trench, it uses its massive thrusting power to push new trunk main pipes through the century-old Victorian ones.
"Modern techniques allow us to slide the new plastic pipes inside the old ones," says project manager Ben Connis, from Thames Water alliance eight2O. "This reduces the need to excavate large trenches and, as a result, improves safety while reducing cost."
The scheme requires two cast iron trunk mains to be re-lined between Raynes Park recreation ground and a pedestrian footpath, known as 'The Cut', opposite New Malden railway station – a distance of around 1,700m each.
Connis added: "For this project we also carefully planned where we would excavate to keep disruption to The Cut and Coombe Road to a minimum while we rehabilitated these mains that pre-date the reign of Queen Victoria."
The machine drives 12 metre lengths of 710mm PE SDR11 – high density polyethylene pipes – inside the old Victorian mains from Raynes Park to the rear of the railway station, a distance of 1,200m, with the remaining 500m being slip-lined through The Cut.
The pipe pushing machine is so efficient that it can push a 12m length quicker than the time needed to fusion weld the next length onto the run. The machine is now returning to Holland but is highly likely to return for Phase 2 of the project, which is in the planning stages.