Hot ideas on show at Innovation Festival
Innovative ideas, fresh thinking and imaginative solutions were all on display at Northumbrian Water Group's Innovation Festival, held last week (July 9-13) at Newcastle Racecourse.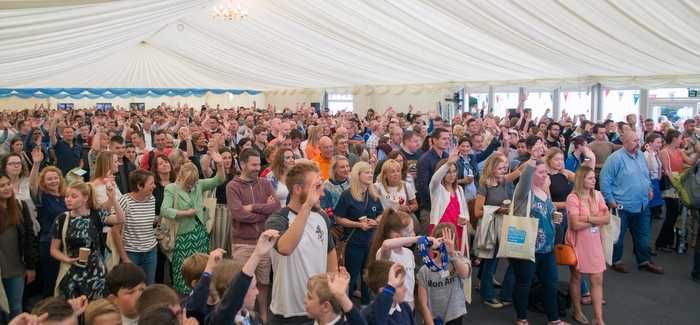 The festival attracted thousands of participants, including hundreds of local youngsters
The five-day event, the second of its kind following the inaugural festival held last year, attracted thousands of attendees and involvement from 510 businesses, as participants worked together to tackle 13 major social and environmental challenges.
Data hacks and design sprints examined not only water-related questions such as tackling leakage and sewer flooding, using smart technology in the network and reducing water consumption, but also environmental challenges such as phasing out single-use plastics and green transport; and societal issues such as providing better customer service to visually impaired people.
Festival guests throughout the week included TV Star and Pointless host Alexander Armstrong, BBC Business expert Steph McGovern, DEFRA Permanent Secretary Clare Moriarty and senior directors at the Environment Agency and OFWAT.
They were joined by innovation experts, scientists, engineers, designers, local businesses, Universities, schools, artists and members of the public to come up with and explore innovative ways to help change the world. 
In between the sprints and problem-solving festival attendees were also treated to activities including comedy improv workshops, leak sniffing dog demonstrations, weather bulletins, volleyball competitions, yoga demonstrations, world cup screenings and more. 
"At the heart of this event is the idea of open innovation," says Northumbrian Water CEO Heidi Mottram told WWT on the concluding day of the festival. "The really successful, innovative companies that we could all name, such as Google or Microsoft, believe that the best innovation happens when you are open, and put your work and your challenges out there for other people to come and add something to. We wanted to know what would happen if we invited a much bigger group of people than a typical event and had a much bigger ecosystem; and secondly, what would happen if you did it with a festival vibe when people were in creative, playful, mode.
"We've invited all the water companies here, but also many other innovative companies and people from other sectors, and many people have come who are new to us. It's produced a great richness and diversity of ideas. The festival is double the size this year – and who knows where it will go next?"  
One of the sprints, with the title 'Going Deeper Underground' and sponsored by Ordnance Survey, worked on the possibility of creating an underground map of the UK showing all the water, sewerage, power and telecoms assets. The sprint team managed to produce a prototype of the underground map and a plan for how it might be further developed with pan-utility collaboration.
Meanwhile, the 'Green Planet' sprint, sponsored by BT and aimed at finding solutions for sustainability and carbon neutrality, came up with the idea of gathering dog waste from across the Northumbrian region and using it as additional fuel for anaerobic digestion plants. The developed solution focused on the practicalities of collecting the waste and how dog owners and councils could be engaged with such a scheme.
Festival organiser and NWG IS group director, Nigel Watson, said: "It's been an incredible and amazing week. We've seen people come from all over the world to join us here in the North East to focus on innovation and to help us make the world a better place, and that's been just fantastic. 
"I'm very excited about the results and can't wait to see what comes out of the festival. Last year we saw some amazing ideas come to life – like the moss tree in Newcastle – but I'm confident having seen what the sprints have come up with this year that we're going to change the game completely.
"I'd like to thank all of the sponsors, partners and the racecourse for making the event happen. I'd love to thank all of the guests that came throughout the week to provide inspiration for us all. 
"A huge thanks to our customers for taking their time to come and be part of it with us and the biggest thanks of all to our amazing employees who made the whole event happen."