Hollywood's Tom Cruise drops into Hanningfield WTW
Hollywood star Tom Cruise took time out from filming his latest blockbuster, Edge of Tomorrow, to visit staff at Essex & Suffolk Water's Hanningfield drinking water treatment plant. He met and chatted to water company workers and then posed for one photograph with some of the 250 people working in the office.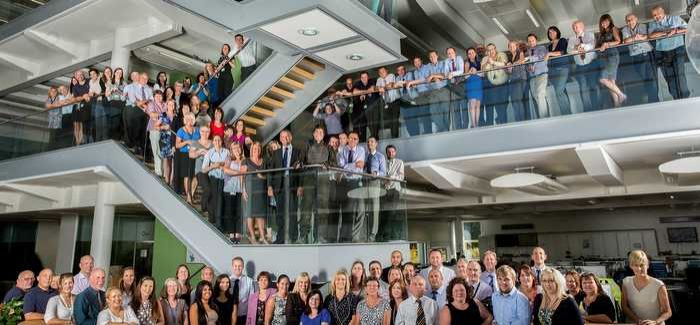 Tom Cruise with some of the site's water workers. Image: Jaap Buitendijk
Cruise had been filming scenes at a redundant part of the treatment works, which had been transformed for action sequences in the movie.
Vertical Flow Tanks used to construct the set had been part of the water production process. With the introduction of more modern treatment technology this part of the process is no longer required, allowing them to be used as an unusual location for filming.
More than 200 crew, including Tom Cruise and director Doug Liman, were on site at Hanningfield over a two-week period for the filming in August last year. However, the company and staff were sworn to secrecy until the movie's release.
David Alborough, group property services manager for Essex & Suffolk Water, said: "We've been a location for a wide variety of films and music videos, recently World War Z with Brad Pitt and the rapper Example have used part of our site at Hanningfield.
"We discussed with the producer if it would be possible for Tom to meet our staff at Hanningfield. It is very unusual for this to be allowed, and we were delighted when he and Tom agreed. They even arranged the visit so that as many people as possible could be available which was very generous of them considering their tight schedule. When something special, such as the visit of a Hollywood A-Lister can be arranged for colleagues – well, that's just something incredible."
The water company works with location agency Amazing Space, a leading location provider to the film, photographic and event industries.
Connie Henderson, location coordinator at Amazing Space, said: "Hanningfield is a fantastically versatile site and has proven to be one of the most popular locations in our library. Not only does it have striking and dramatic architecture that has attracted British and Hollywood productions alike, but the staff work extremely hard to accommodate the requirements of the filming alongside normal operations to ensure everything runs smoothly."
Hanningfield works treats up to 225Ml of water a day from Hanningfield Reservoir in order to supply drinking water to a large part of Essex and east London.