Helicopter used for pipe repair project in Wales
Welsh Water has brought in a helicopter to help out with pipe repairs in Dolgarrog, Conwy this week as it worked in a remote area of the Carneddau mountains.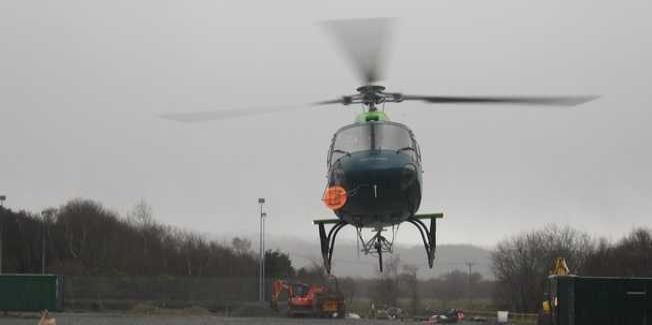 The helicopter landing at Dolgarrog
The helicopter carried essential materials needed to repair a protective cover on the two strategic water pipes which are located near Llyn Cowlyd. The cover was damaged during the the heavy rain over the Christmas period. The pipes carry water from Llyn Cowlyd down to Welsh Water's Bryn Cowlyd water treatment works in Dolgarrog which feeds clean water to 44,000 homes in Llandudno, Colwyn Bay and the surrounding area.
The concrete protective cover for the water pipes, which run across a gorge, was damaged when heavy rain washed away the bank of the stream and bought down boulders and fallen trees in its path. Welsh Water have been working with RWE nPower and Natural Resources Wales in planning and carrying out the repairs. Due to the remote location of the pipe a helicopter was required to transport some of the material from Dolgarrog to the site.
Mark Jones, Project Manager with Welsh Water said: "Because of a surge in water through a gorge over Christmas, our water mains, which were covered in a protective concrete cover were exposed. To ensure there was no damage to the pipes, it was important that work to reinstate the cover was started as soon as possible.
"Our team has been working on site seven days a week for the past couple of weeks, but the location of the work has proved challenging in a number of ways due to its remoteness, steep inclines and lack of roads or tracks to the site. The recent wet weather has also proved challenging along with a cold spell and snow near the site. Low cloud also meant that the helicopter worked over three days to move the materials making nearly 160 trips."
Aled Morgan, Dŵr Cymru Welsh Waters Capital Engineering Delivery Manager for North Wales said: "Our biggest Challenge was getting the larger materials needed to carry out the work, to the site. The helicopter operations enabled us to do this in a quick and efficient way with the least impact possible on the environment.
"I would like to thank the residents of Dolgarrog and surrounding area for bearing with us while we carried out the work and also Surf Snowdonia for allowing us to use their site for the landing and take-off operations."
While the work is being carried out there has been no impact on drinking water supply to local residents.