HBS completes 11.6MW solar array at Anglian Water treament works
HBS New Energies and Macquarie's Green Investment Group (GIG) have announced the successful connection and completion of Anglian Water's Grafham Water Solar Scheme.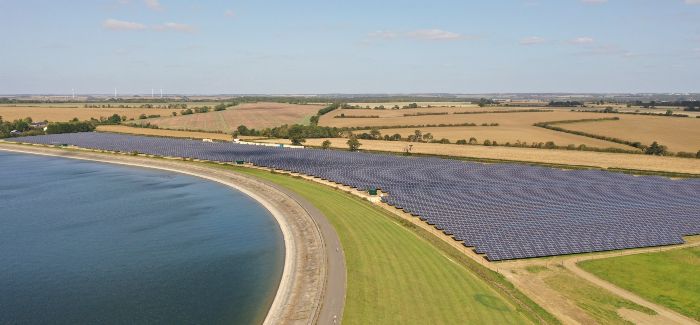 The project, developed by HBS under Anglian Water's solar delivery programme, is a major milestone for the water utility as it presses ahead with its ambitious plans to achieve carbon neutrality by 2030.
At 11.65MW and covering over two miles, it becomes one of the largest solar farms built in the UK Water Industry and the largest in Anglian Water's solar portfolio.
Funded by a Power Purchase Agreement (PPA) structured by GIG, the onsite renewable energy source will meet over 26% of Grafham Water's energy consumption and reduce site carbon emissions by around 3,500 tonnes per year.  
Grafham Water uses approximately 45 million kWh of energy a year to supply clean water across the region to hundreds of thousands of customers. The zero-carbon electricity generated by the solar panels will help power essential water treatment operations through a private wire connection.
This solar installation demonstrates how water utilities cut emissions, reduce reliance on grid electricity, and generate clean, low-cost energy to help power their energy-intensive water treatment facilities.
Jason Tucker, director of strategic delivery and commercial assurance for Anglian Water, said: "Our ambition to power our operational sites through renewable energy is a vital part of our journey to reach net zero carbon by 2030.
"The scale of our challenge is significant and the solar array at Grafham is a great example of what can be delivered when working collaboratively with our supply chain. The fact that this has been constructed and commissioned through the challenges of Covid-19 makes the efforts of HBS New Energies alongside colleagues within Anglian Water and the Green Investment Group truly remarkable."
James Bull, managing director for HBS New Energies, said: "As a third generation owner of HBS the completion of this solar installation at Grafham Water is a huge milestone in our company's history. We are very proud and grateful to have worked with Anglian Water on this prestigious and ground breaking solar project, supporting their journey towards net zero carbon by 2030.
"From developing the opportunity, achieving one of the UK's largest permitted development approvals, to designing out risk on a very complicated site and installing through a pandemic every team member excelled in both quality and effort. Grafham Water is a great example to all other water utilities and businesses showing what collaboration and a joint effort to succeed can achieve."
Edward Northam, head of GIG Europe, said: "We are proud to be supporting Anglian Water in its ambition to become carbon neutral by 2030. This project, delivered by HBS, is a great milestone on the way towards this goal. Grafham is also the largest project in our Commercial and Industrial (C&I) PPA portfolio and, by delivering this utility scale project in the current challenging environment, demonstrates that GIG is now a major player in the solar C&I market." 
John Toms, head of commercial for HBS New Energies, added: "By working closely with GIG and Anglian Water we have successfully executed a market-leading PPA agreement to enable the development of this landmark solar project.
"To build a solar array of such size and complexity during these unprecedented times is a great achievement and further demonstrates HBS' track record in delivering solar projects in the C&I sector. We look forward to continuing our effective partnerships in the future, helping organisations harness the benefits of solar energy and meet their carbon reduction ambitions."