Grimsby flood scheme takes off
A project to protect nearly 2km of the Humber Estuary against flooding has got underway. The £2.7M Environment Agency (EA) contract with Balfour Beatty (BB) is the first phase of a wider scheme to protect thousands of homes and businesses in Grimsby.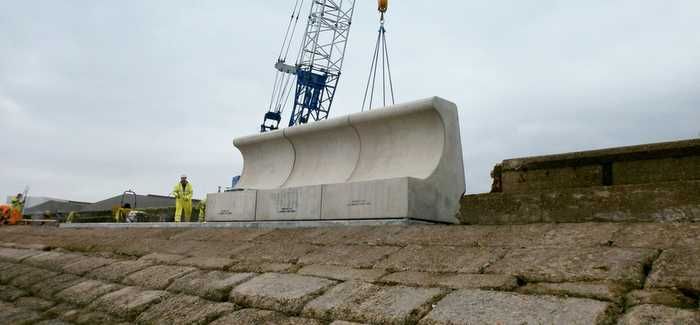 One of hundreds of 20-tonne concrete blocks, which will form Grimsby's new Sea Wall, is lifted into place using a BPH 135t crawler crane
It includes the creation of a 1,300m pre-cast concrete wave wall, repairs to existing concrete defences and improvements to the shore-line earth embankment. The works follow the successful completion of another EA tidal flood defence scheme in Redcar by Balfour Beatty earlier this year, which the contractor says is protecting 1,000 homes from potential flooding.
The scheme will use specialist heavy machinery provided by BB's plant hire business, BPH, including a 180t crawler crane that is one of the largest in use in the UK.
Mike Dugher, area coastal manager at the Environment Agency, said: "Thousands of homes and businesses would be at significant risk of flooding should these defences fail. Our previous inspections identified that the flood defences at the docks would benefit from improving so it is vital that we continue to work together on this important project that will benefit thousands of people in Grimsby."
Mark Farrah, BB managing director - North & Midlands, said: "We are looking forward to delivering this vital flood defence scheme for the EA, which builds on our portfolio and experience in delivering similar works for the Environment Agency in York and Warrington."
The scheme will stretch from the Fish Docks to the western end of the Cleethorpes North Sea Wall, and is due for completion in July 2014.