'Greta Thunberg effect' could help push SuDS forward
Growing support for action on climate change could help SuDS to progress in England, speakers told the WWT Sustainable Drainage Systems Conference on 1 May.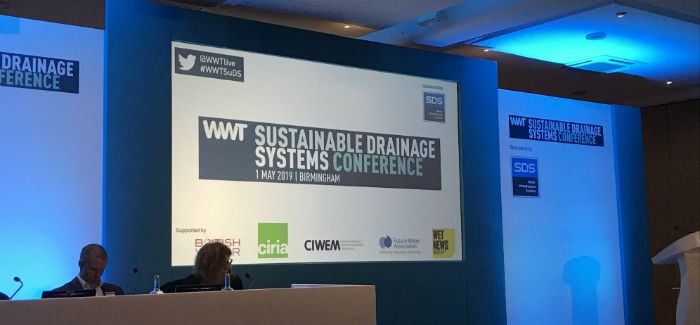 CONFERENCE SOUNDBITES
"One of my bugbears is that rainfall is seen as a problem, not as a resource. Our work involves trying to promote the benefits as a resource."
Martyn Evans, Natural Resources Wales
"It's an impatient business. People want delivery today, results tomorrow. They have to realise that some of it is going to be slow burn, but it is the right thing to do."
Andrew Hagger, Thames Water
"We do a lot of maintenance ourselves but we also outsource maintenance to contractors. I think there's definitely a gap there not only in our own people but in our contractors and sub-contractors too because they will be doing a lot of this work. How we handle that will be a challenge."
Jonathan Glerum, Anglian Water
"For low-risk surfaces, a well-designed and effective vegetative system with beautiful landscaping and biodiversity benefits will deal with your pollution load but, for medium- and high-risk surfaces, you very often have to marry together manufactured devices with vegetative systems so that you can control the pollution while delivering the benefits."
Jo Bradley, SDS
Climate change has been in the spotlight around the globe, with Swedish teen Greta Thunberg having inspired the 'school strike for climate' movement, the Green New Deal proposal attracting interest in the US and Extinction Rebellion's non-violent protests in the UK having been replicated in several other countries.
On Wednesday, the UK Parliament became the first national government to declare an Environment and Climate Emergency, and the Government's official Committee on Climate Change has since said the UK must set a legally binding target to cut greenhouse gas emissions to zero by 2050.
Several speakers at the Sustainable Drainage Systems Conference in Birmingham highlighted the potential knock-on effect of these developments on SuDS, which could play an important role in tackling the increased flood threat posed by climate change while bringing other benefits such as aiding biodiversity.
"We've just had Extinction Rebellion, we've had Greta Thunberg meeting Michael Gove," conference chair Sue Illman, the managing director Illman Young Landscape Design, said in her introduction. "It would be nice to think that awareness could be filtered into what we're doing."
CIWEM director of policy Alastair Chisholm added: "Climate change, including climate change adaptation as part of that wider agenda, is politically really, really hot at the moment with widespread calls for greater ambition from Government. Hopefully that will have some traction and push things in the right direction."
Yorkshire Water drainage strategy manager Brian C Smith, speaking on behalf of Water UK, also highlighted the change in the public mood.
"We've got the Greta Thunberg effect," Smith said. "We've got the direct action of many others, from walking out of schools to Extinction Rebellion. The accumulated evidence is very much in our face, from floods to droughts.
"I think we as an industry acknowledge that climate change is one of our biggest threats, and through our work I believe we are now at the forefront of our efforts to adapt to these changes. 'Zeitgeist' is a very encouraging description for this moment and the coming together of many exciting changes that are happening. I think we will now see an acceleration and coming together of many of those changes."
However, he stressed that there are many obstacles to SuDS implementation in England and said it was "incumbent on all of of us, professionally and morally, to work together to overcome some of those barriers and make it happen".
While Wales has been able to make significant strides on SuDS, the situation is more complicated in England. A poll of attendees at the conference suggested concerns over maintenance were the biggest barrier to a wider roll-out of SuDS in England, followed by a lack of co-ordination among stakeholders.
"The upshot is it's really about passionate individuals delivering in spite of the current system, not everybody delivering because of the system," Chisholm said.
"The non-statutory technical standards are totally out of step with the agenda we're trying to get and to my mind need to be very urgently updated. Adoption is still very messy and without some kind of resolution is always going to be a barrier to delivering to the full potential. Local authorities' resourcing and capacity is an ongoing issue and that is unlikely to change in a hurry."
Smith discussed the upcoming Design and Construction Guidance from Water UK, which will replace Sewers for Adoption.
The new, mandatory guidance applies to developers when planning, designing and constructing foul and surface water drainage systems, including pumping stations and rising mains, intended for adoption under an agreement made in accordance with Section 104 of the Water Industry Act 1991.
Design and Construction Guidance could be implemented as early as September, although Water UK has indicated that April 2020 may be more suitable to allow companies more time to work with local authorities and developers as well as on internal training.
"We're not so naive as to think this will be straightforward," Smith said. "This is a big, big change for the water industry. Companies are now starting to assess what it might mean for them and starting to develop an approach. We will work to ensure it is implemented in as smooth a way as possible.
"We are entering a brave new world. I think there are still many people within water companies who don't appreciate what's going to land on their desks when this happens."
He added: "Water companies are predominantly involved with pipes and hard engineering structures, and I think this is going to force them to get up to speed very quickly on horticulture, landscape management, vegetation management. Even if it's not them who will be undertaking those activities, they need to understand the function. Our operatives need to understand, for example, that you don't cut back at the beginning of the season or you just wipe out all the biodiversity."
Smith also emphasised that there remains some confusion as to what the water companies will be able to adopt.
"Legally, water companies are not adopting SuDS and have no powers to do so," he said. "People are getting excited about the idea of adopting SuDS, but we can only adopt sewers.
"Some sustainable drainage assets could be designed as a sewer and adopted as such providing it fulfils a sewerage function. The case law is complex but the basic idea is simple: If it performs a sewerage function, it is a sewer even if it is not a pipe.
"I believe the question of how SuDS qualify as sewers opens up some very interesting opportunities."
The WWT Sustainable Drainage Systems Conference took place in Birmingham on 1 May and was sponsored by SDS