Green light for Thames 'super sewer'
Thames Water's £4.2B Thames Tideway Tunnel has been given the go-ahead. The government announced today (September 12) that it had approved planning consent for the scheme following a six-month investigation by its Examining Authority (ExA).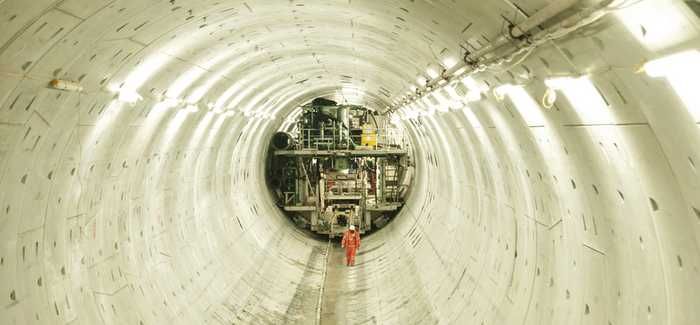 The Tideway tunnel will connect to the Lee Tunnel
Commenting on today's announcement, Andy Mitchell, chief executive of Thames Tideway Tunnel, said: " If the tunnel had been in operation last year, it would have captured 97% of the sewage that poured in to London's river. Hardly a week goes by when untreated sewage is pouring in to London's river and we are pleased that we can now start to tackle this archaic problem.
"This is a huge project but it's a huge problem, and we can now get on with tackling it. It's no easy task, but we're confident that we can deliver this project and still achieve our aim of minimising the impact on our customer bills."
The 25km tunnel will run underground from Acton storm tanks in West London, and travel roughly the line underneath the river to Abbey Mills Pumping Station in East London, where it will connect to the Lee Tunnel.
It will be financed and delivered by an independent specialist company, separate to Thames Water and with its own licence from Ofwat. Interested investors are currently preparing bids for this company, with the successful bidder expected to be announced next summer.
The project will be paid for by Thames Water sewerage customers, who will see an increase of up to a maximum of £70-80 by the mid 2020s.
Hammersmith & Fulham Council reacted furiously to today's announcement, saying the project will "unnecessarily blight the lives of tens of thousands of people".
A construction site is planned in Carnwath Road, south Fulham, to create a major drilling entrance for the tunnel. The council said that residents living near the site will be subject to 24/7 noise, dust and air pollution, potentially affecting their health and well-being for eight years.
The council added that this could have been avoided if the site had been located over the river in Barn Elms, as was originally envisaged.
Cllr Stephen Cowan, the Leader of Hammersmith & Fulham Council, said: "This is a disgraceful decision by the Government which effectively says that a piece of park land is more important than a community where thousands of people live. 
"The park would have been restored after construction was completed, but using Carnwath Road will cause human misery to thousands of people for years to come."