GPS produces new pipe size for UU mains scheme
GPS PE Pipe Systems has pushed the boundaries of manufacturing capabilities by producing a completely new size pipe for one of the UK water industry's largest directional drilling projects.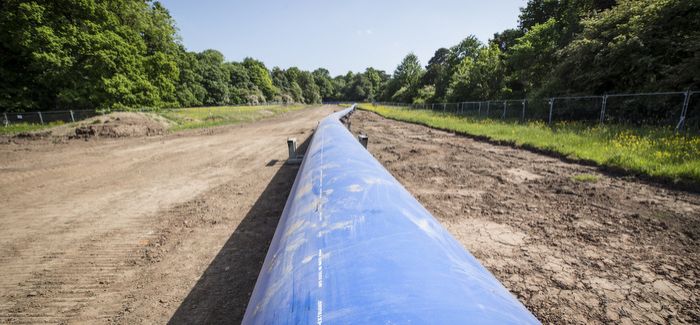 The mains duplication scheme is a £7M project being undertaken by United Utilities (UU) to ensure it continues to meet customer demands in the Chester, Wirral and Ellesmere Port areas. The new pipeline will follow a similar route to the existing pipe and will transfer raw water from the River Dee to Sutton Hall Water Treatment Works, where the water is cleaned and distributed as fresh drinking water.
A major section of the 1.7km route crosses Chester Approach, a major gateway into Chester City centre, and so 450m of horizontal directional drilling was required to install the pipeline underneath the busy road. As this project required a new pipe size and material, never previously used in the UK water industry, new manufacturing capabilities were needed. 
To ensure the pipeline could cater for the future growth of the area, an 800mm pipe was required, but, due to the directional drilling pressures, a minimum 80mm wall thickness was needed, resulting in a required specification of PE100 800mm SDR 11 pipe, a size never previously produced in the UK.
GPS can supply bespoke solutions for customers, and was able to manufacture, test and deliver 450m of PE100 800mm SDR11 pipe within the 12-week timeframe.
Manufactured in 12m lengths for ease of storage and handling on a site within a busy public area, the pipe was then jointed using the butt fusion technique above ground and pushed into the drilled trench to ensure a robust pipeline.
The installation was not without challenges. Working on the River Dee embankment there were several environmental considerations that were carefully mitigated by drilling underneath the surface. The varying ground conditions that the drill needed to navigate, including sandstone, soft clay and hard clay, also caused an array of technical challenges.
It was testament to the careful planning, collaboration with all parties in the supply chain, and precise installation capabilities that ensured the drilling successfully traversed the ground and came up in the exact location along Chester approach without any settlement concerns.
Dan Smith, UU project manager, said: "This new pipeline is vital to ensure we can continue to meet the demand of a growing population. This was a very complex scheme, with such a large directional drilling element making it not only unique but a difficult task to find partners that could deliver the required solutions."