Government challenged to review Thames 'super sewer' decision
Thamesbank and the Environmental Law Foundation (ELF) urge government to review decision on the Thames Tideway Tunnel, saying there are "now powerful new circumstances that merit re-consideration".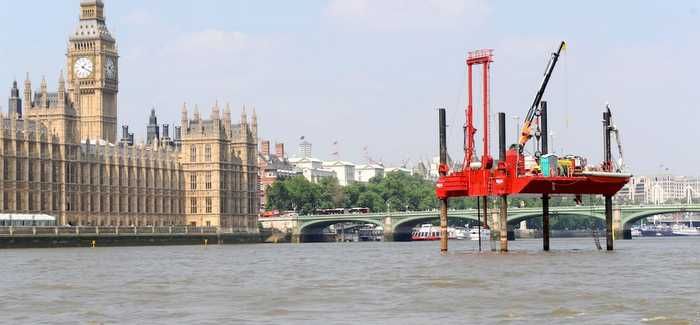 Exploratory work taking place for the tunnel
The two organisations, supported by several groups as well as former Ofwat director general Sir Ian Byatt, has written to the three secretaries of state at Defra, Energy & Climate Change and Communities and Local Government outlining grounds for the review. They said the relevant circumstances for the review are:
Mounting concerns about the cost and financing of the TTT
Changed policy landscape supporting cheaper and more effective alternative approaches
New practical evidence of the success of cheaper and more effective alternative approaches
Clear case that the terms of reference and scope specified for the assessment of alternatives in 2010 was inadequate
Clear case that the assumption on which the benefit of the project was assessed was flawed
New evidence has been submitted in the letter. This includes two tunnel engineers who have each questioned the reliability of evidence used by Thames Water. The engineers were involved with the original studies that looked into the feasibility of the tunnel, which was conceived by the Thames Tideway Strategic Study Group (TTSS) between 2000 and 2005,
In requesting the review, Thamesbank and ELF and the co-signatories said they believe the government "is in grave danger of drifting" into a solution to a problem which has been misunderstood.
Thamesbank and ELF said they "strongly believed" there alternative solutions would be cheaper and more effective in quickly cleaning the Thames as well as come with wider benefits. They said the National Policy Statement on Waste Water (NPS), published in March 2012, "is both wrong and unlawful in circumstances where alternatives have never adequately been investigated".
The letter concludes that the government now has an "opportunity to reopen the consultation through the Aarhus Convention and transform London positively for generations to come".
Click here for the letter in full