GMB wants Wales to supply water to South East England
GMB has called for water in the Craig Goch reservoir in mid-Wales to be made available to the South East of England to deal with the threat of water shortages, although it has since issued an apology for causing "upset" after criticism from Plaid Cymru.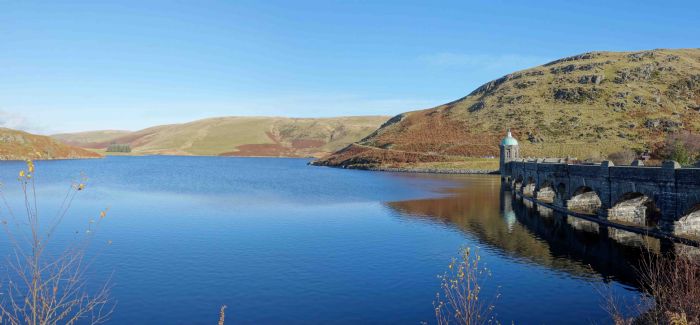 GMB wants to transfer water from the Craig Goch reservoir to South East England
A meeting of the GMB Congress saw the trade union call on the government and Thames Water to "seize the opportunity of the current restoration of the Cotswolds canals for them to be made ready to be used to transfer water from the Craig Goch reservoir in Plymlimmon mountain range in mid-Wales to the Thames". 
GMB, which has launched a 'Take Back the Tap' campaign for renationalisation, said the idea could see the water companies and the Heritage Lottery Fund funding the canal restoration work.
It said the proposal would address the water shortages facing London and South East, which are contending with population growth and a changing climate, through to the end of the century.
GMB regional officer Mick Ainsley said: "People want to know their water supply is safe and are fed up with excuses as to why moving water around the country to where it's needed can't happen – it's time to make it happen. We need to be putting the national interest before private profits."
An agreement came into force in April that means the authority to make decisions on water is shared between the UK and Welsh governments.
Wales is already supplying fresh water to Birmingham via the Elan Valley Aqueduct, and the Welsh government's director of environment and rural affairs, Tim Render, told the WWT Wales Water Conference last month that the "availability and value" of its supply would need to be reassessed in light of climate change.
Plaid Cymru's MP for Arfon, Hywel Williams, told Nation.Cymru: "It is certainly not up to the UK government in London or individual trade unions for that matter to tell the people of Wales what should be done with our water.
"The Welsh government has control of Welsh water – any attempt at bargaining away one of our most powerful natural resources should be fiercely resisted. If it is to be transferred to London and the South East, it should be for a proper price."
Capel Celyn, a village in North Wales, was flooded in 1965 to provide water for Liverpool, and Williams added: "The GMB should be mindful that this matter has a long and painful history in Wales – they are clearly trampling on an issue they do not understand."
Ainsley responded by telling the BBC's Good Evening Wales programme that the union apologised and had "never intended to upset anybody".
"There are problems with water shortages throughout the UK, in particular in London and the South East, and what we're starting this week is a discussion about how we're going to fix that," Ainsley said.
"I certainly can't comment on what happened in the past, because it was not something I was particularly familiar with, so in that respect Mr Williams is probably correct in that we didn't know what we were treading on."
The BBC also quoted a spokesperson for Dwr Cymru Welsh Water, which owns the reservoir, as saying: "Any plans to transfer water from Wales to other parts of the UK should only be considered if it benefits Welsh customers."
Cotswold Canals Trust chief executive Ken Burgin, meanwhile, has made clear that the Craig Goch reservoir would not need to be part of any plans to transfer water to England.
In a statement issued to WWT, Burgin noted that the GMB Congress call for Thames Water to secure water from Wales via the Cotswold Canals "has stirred up some controversy due to their proposal to take water from the Craig Goch Reservoir which is under the control of Welsh Water". 
The statement continued: "However, the Severn-Thames Cotswold Canals Water Transfer scheme developed as an option by Thames Water with input from ourselves, but not included in their draft preferred programme, does not rely on water from Craig Goch at all.
"The River Severn natural flows would need to be augmented in drier periods to maintain the flows of water needed by the environment and to support the transfer to London and the South-East at full capacity.
"However, this water would be sourced from United Utilities' Vyrnwy Reservoir which currently supplies Liverpool. The resultant reduced supply to Liverpool from Vyrnwy would be replaced by other water resources available to United Utilities elsewhere in the wetter North-West of the country.
"There are other proposals involving Severn Trent Water providing additional water resources as well. This is effectively a pseudo water grid but without the need to spend many £billions creating mayhem burying hundreds of miles of large diameter pipelines.
"The Cotswold Canals Trust has been pushing for the restoration of the Cotswold Canals for its considerable recreational/heritage/biodiversity value in conjunction with a Severn-Thames water transfer function. The feasibility of such a scheme has been established by Thames Water but it is not included in their current draft Water Resource Management Plan preferred programme.
"The canal is able to supply similar quantities of water as Thames Water's alternatives such as the huge controversial Abingdon Reservoir which has a longer lead time even if it is allowed at all.
"Our analysis of the costs suggest that the canal option would be extremely cost effective in addition to delivering many more collateral benefits compared with any of the current Thames Water preferred large scale resource solutions. It would also be a far more inspirational and popular choice offering the prospect of re-opening the most important missing link in the UK inland waterway network within the next 10 years or so."