Glenmorangie distillery uses industry-first wastewater membrane
Leading Scottish whisky brand Glenmorangie is making use of an innovative wastewater treatment technology at its distillery in the Northern Highlands.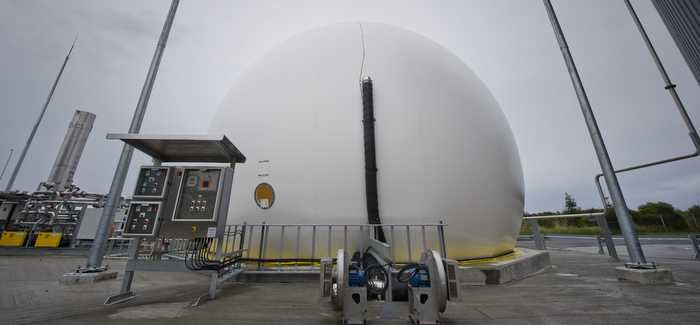 Biogas is stored for use in the boilers, reducing reliance on heavy fuel oil at the distillery
The anaerobic membrane bioreactor system, designed and built by Worcester-based Aquabio Ltd, is a first for the whisky industry.
The anaerobic digestion plant at the Ross-shire distillery was opened earlier this summer, boasting the use of natural biological processes which both reduces output in distillery wastewater by up to 95 per cent and creates energy in the form of methane rich biogas. Importantly, the biogas replaces some of the fossil fuels used at the distillery to heat the stills in which the spirit is made; the knock-on effect is that the standard of the wastewater is improved.
Steve Goodwin, Managing Director of Aquabio, explained: "The low energy Anaerobic Membrane Bioreactor Plant – or AnMBR LE – is designed to improve the quality of the effluent being discharged into the Dornoch Firth and the resulting biogas is reused as fuel in the site boiler system."
Dr Peter Nelson, Operations Director of The Glenmorangie Company, added: "The Glenmorangie Company has a strong commitment to building a sustainable future. The water treatment facility at Tain has been a significant step towards that future and we are delighted with the performance of the Aquabio technology as part of a broader commitment to minimising our environmental footprint".
The technology, with its ultra-filtration tubular membranes, has helped Glenmorangie achieve its objectives of protecting the environment in which it operates. The plant now largely operates automatically and can be remotely monitored online; this ensures optimum efficiency in both wastewater treatment and power generation.
Goodwin concluded : "We are immensely proud of the successful completion of this prestigious contract.  Our experience and track record in delivering wastewater process projects was a key factor in Glenmorangie's decision to award us the contract.  We – along with our group company Freudenberg – are both excited and proud to have been involved with such a premium brand."
An average of ten to twelve litres of water are need to produce one litre of whisky at the distillery, which produces 4-5 million litres of whisky per year. The microorganisms in Glenmorangie's bioreactor are able to degrade 11.7 tonnes of chemical oxygen demand in the polluted wastewater every day.  In the process, they produce 3500 cubic metres of biogas every day.