German delegation visit for Aerzen Machines
Aerzen Machines recently welcomed a delegation of fifteen German business leaders and the German Minister for European and Federal Affairs and Regional State Development, Birgit Hone, to its UK office to discuss the potential implications of Brexit.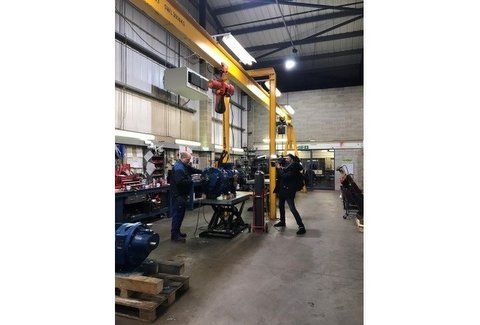 With the UK's exit from the European Union hanging in the balance and the next parliamentary vote on the withdrawal agreement set for March 12th, the German-owned manufacturer of blowers and compressors invited the distinguished visitors to its site in Loughton, Essex.
The group had spent the week in London meeting with Whitehall officials and this represented a chance to see for themselves the level of preparedness of a German subsidiary in the UK.
Matthew Morey, Managing Director of Aerzen Machines in the UK, talked about the impact seen to date on the business and the measures the company was taking to mitigate risk. Plans, he explained, were well thought through and included an increase in stock holding plus an understanding that import documentation would potentially increase – but in general no downturn in trade had been seen to date and in fact 2018 was the best in the company's history for sales and profit. The company expects other changes and implications but the flexibility of the business is one of its greatest strengths and is prepared to deal with whatever implications are seen to ensure Aerzen retain their strong position in the UK and Irish markets.