Future Water Association urges firms to back youth initiative
The Future Water Association is urging the sector to get behind its campaign to get young people interested in the sector and help find the next generation of workers for the water industry.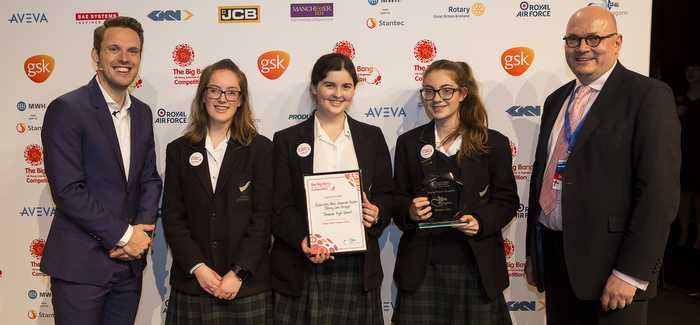 Future Water Association's Paul Horton (right) with winners of the Young Water Dragons competition in March
The 'Skills for the Future' initiative aims to get children of early secondary school age (11-14) taking part in fun challenges, lessons and projects that will get them thinking about the importance of water and the vital role played by the water utilities.
The idea for the initiative has developed from the trade body's Young Water Dragons competition, which challenges schoolchildren to come up with innovative solutions to water-related problems. The inaugural Young Water Dragons competition was held at the Big Bang Fair in March this year and the winners were Teesside High School.
During the four days of the Big Bang Fair, which focuses on Science, Technology, Engineering & Mathematics (STEM) – Future Water Association judged projects from over a dozen schools, with subjects ranging from 'Could Algae Save the world'; 'Morbosphere and reducing Malaria'; 'Aquatic Pacer'; 'Hydroponic systems' 'Hydro-power' 'microbes and wastewater treatment' and many more.  
The association wants Young Water Dragons to be the centrepiece of a wider effort to engage young people in the sector which will include establishing Water Dragons as a regular part of the National STEM Awards programme, holding regular communications with schools to get young people interested in water, and an engagement plan of talks and events which focus on water projects and help put water on the careers agenda.
Organisations to have already backed the initiative include Amec Foster Wheeler, Artesia Consulting, blu-3, Clancy Docwra, Immerse, Inflowmatix, Murphy Group, MSC Associates, Onsite, RPS, Skanska, Water 2 Business and WRc.
Paul Horton, CEO of the Future Water Association, said: "Water is so critical to our future that is underpins our economy and way of life. We don't just need to attract the next generation of creative thinkers, we need to show them that the water sector is a vibrant and exciting place to work, more interesting than NASA."
The utility sector is facing a skills crisis as a result of ageing workforce and a declining skills base; by 2024, water companies will need to have replaced their entire workforce, said Horton. It is therefore essential to encourage young people to be excited by the water sector as a potential career.
"I've spoken to a number of schools career advisers who have said 'glad you got in touch, because we don't know anything about the sector,'" says Horton. "We don't talk to our kids about the sector. It seems crazy when water is so valuable, but if we don't do anything now, then in seven years' time, we'll have a lot less people."
Find out how your organisation can help at http://www.futurewaterassociation.com/young-water-dragons
Read WWT's feature on the water sector skills shortage in September's issue of WWT: http://wwtonline.co.uk/features/a-time-to-skill#.Wa04ych9670