Future-gazing - ultrasonic baths and plastics from sludge
A new report published today by Veolia Environnement and the London School of Economics envisages the home of the future with self-cleaning bathrooms, ultrasonic baths and consumer goods made out of sludge.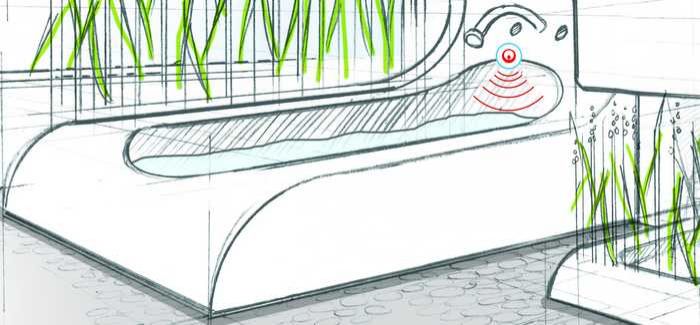 Ultrasonic technology could cut water consumption in the bath of the future
Defra estimates businesses in the UK could save £23B/yr by improving the way energy and water is used and by reducing waste.
In Imagine 2050, materials used in the design of the self-cleaning bathroom would reduce water use by mimicking the behaviour of the lotus leaf. The leaf's surface is highly water repellent, controlling the loss of water, and its rough texture stops particles sticking to it. Further, when rain falls onto the leaf, it removes all particles and dirt.
With the average UK water bill set to rise more than £400, and time at a premium, Veolia said the reduction in water-use for cleaning and the time freed up from chores would be the gain from such technology. Similarly, ultrasonic baths would also use a minimal quantity of water and no detergent.
Baths make up around 21% of household water usage in the UK, with each using around 80l of water. In the future, cleaning could be done by technologies using ultrasound vibrations to remove dirt, reducing water consumption.
Veolia's report also said that in the future sludge could be a key material in manufacturing bio-plastics, significantly reducing the carbon footprint of materials production, and helping a shift from reliance on oil-based products. Biopolymer, naturally present in organic material like sludge and plants, can now be extracted with chemical process and reused to produce plastic materials.
Veolia has already developed Cella, a technology that integrates biological treatment of industrial process waters, wastewaters and sludge to recover and produce a key ingredient for bio-plastics production. The company says such products have exciting applications as bio-based and biodegradable raw materials for consumer products and services.
Estelle Brachlianoff, Veolia Environnement's executive vice-president - UK & Northern Europe, said: "We must push the boundaries to ensure everyone realises they have their part to play and it can only be achieved by working together. Using our expertise in the fields of water, energy and waste we can help preserve scarce natural resources and manufacture and produce green products and energy sources."