Freshwater biodiversity identifies sediment pollution
A new technique to help protect the biodiversity of freshwater ecosystems and save millions in monitoring costs has been developed as part of a collaborative research project led by the University of Brighton's Aquatic Research Centre. Funded by the Natural Environment Research Council and the Environment Agency, the research resulted in the production of a tool that uses the abundance of certain species of invertebrates within river sites to indicate fine sediment exposures.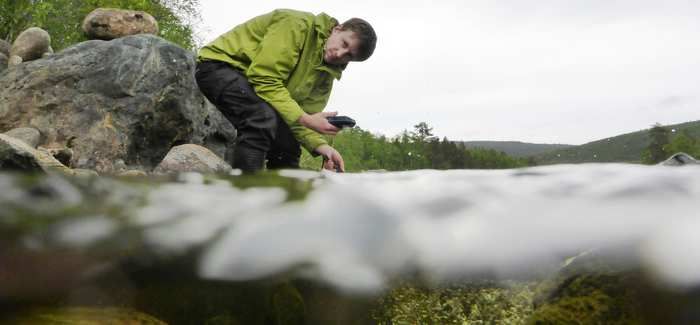 Matt Turley monitors water quality in Finland's Teno River
Fine sediment (organic and inorganic particles smaller than 2mm) is an essential natural component of freshwater ecosystems, but when levels are disrupted as a consequence of human activities, ecological degradation can occur, threatening the numerous "ecosystem services" that freshwaters provide. These services include water supplies, self-purification, erosion control, nutrient and water cycling, and leisure/recreation services, valued globally in excess of $1.7 trillion a year.
Owing to spatial and temporal variability of fine sediment, conventional monitoring can be relatively expensive and time-consuming. Sampling must be frequent enough to ensure that the values obtained are representative.
The research was led by Matt Turley, a PhD candidate in the University of Brighton's School of Environment and Technology,  and is published in the Ecological Indicators.
Co-author of the study Dr Gary Bilotta, head of the Aquatic Research Centre and senior lecturer in the School of Environment and Technology, said: "This tool combines expert knowledge with empirical data in order to weight species' sensitivity to fine sediment. It will be extremely valuable to those involved in the implementation of international water quality legislation, such as the EU Water Framework Directive, saving millions of pounds in monitoring costs in comparison with traditional high-resolution monitoring / sampling approaches. It will also improve the efficiency and effectiveness of assessments of compliance with environmental legislation."