FOG blockage lands Stockport firm in court
Edible oil refiner Jarmac has been fined more than £14,000 for pouring away fats that blocked a United Utilities (UU) sewer and caused flooding in Stockport. UU prosecuted after its staff carried out investigations near Jarmac's base on Lancashire Hill, in Stockport.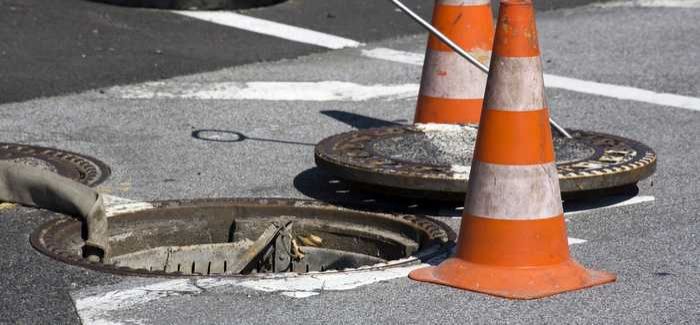 UU had to construct a new manhole so that it could access the sewer
Jarmac, which refines oils for the soap and leather industry, pleaded guilty at Stockport Magistrates Court on October 10, 2014 to a breach of the Water Industry Act 1991. It was ordered to pay a total of £14,293, including a fine of £1,000, costs of £13,193 and a victim surcharge of £100.
In December 2012, Jarmac had an uncontrolled release of pork rind fat into the sewer that caused a sewer blockage.The court heard how the blockage was only discovered after fat and sewage came up through the pavement into Gordon Street, Stockport.  
After investigations, UU had to construct a new manhole in order to access the sewer and it took more than two months to clean out the fat and return the sewer into service.
In mitigation Jarmac said it was proactive in cleaning up the pollution on the road. It later sealed up the drain that carried the waste into the sewer network, and it believed the blockage was caused by a partial collapse of the sewer.
Speaking after the hearing, Craig Waddell, UU wastewater area business manager, said: "We strive to deliver an effective wastewater service for all of our customers. So where individuals or companies cause us operational issues we take it very seriously.
"It takes a great deal of time and customers' money to remove fats and grease from the sewers. In this case the situation was so serious it caused a major blockage and flooding which was very unpleasant for the public."
Waddell added: "Taking customers to court is a last resort as we try to work with traders to prevent breaches occurring in the first place.  However, where we experience operational problems that can affect other customers we sometimes have to step in to protect them, our assets and the environment."