Flood contamination concerns over private water supplies
Water supply specialists are urging farmers to monitor their private water supply for possible contamination now that flood waters have receded. Flood water in a private water supply can cause increased susceptibility to iron-related bacteria as well as stimulate bacterial activity if it is already present.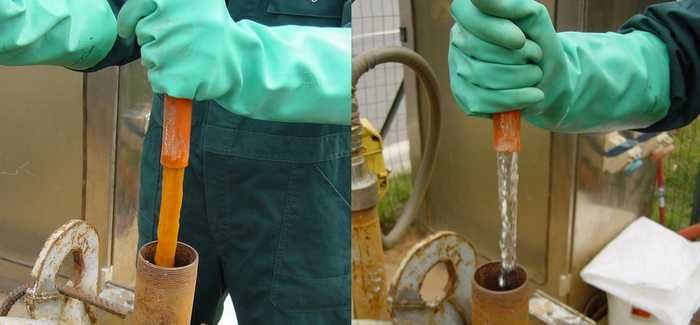 A private water supply contaminated with iron-related bacteria before and after treatment
Iron bacteria is one of the most common contamination problems in private water supplies and left untreated it can lead to reduced yield, clogging of pumps and equipment and possible operational stoppages. The farming sector is one of the big users of private water and according to last year's Drinking Water Inspectorate annual report, Drinking Water, the number of private water supplies is increasing. 
In 2012, local authorities' records contained details of a total of 44,552 private supplies in England, 473 more than in 2011.These records also showed that almost one million people lived or worked in premises that relied on a private supply.
Mike Deed, managing director of Geoquip Water Solutions said: "We have received an increasing number of enquiries from farmers in recent weeks concerned about possible bacterial contamination from the receding floodwaters, particularly in areas of high iron concentration. Our initial advice is to test the water and then to monitor it on a regular basis as the impact isn't always immediately noticeable.
"Iron-related bacteria contamination is traditionally associated with iron rust red water on start-up and in time a reduction in water yield and flow."
Geoquip's advice follows a warning from the British Veterinary Association that whilst the water that flooding land, farms and homes across the UK is subsiding, the danger to livestock and pets remains. 
BVA President and vet Robin Hargreaves said: "The terrible flooding has devastated many areas and it will be a huge relief for residents to see the waters subside. Unfortunately, the challenges for animal owners remain, as contaminated water continues to pose a threat to pets and livestock." Flood water may be contaminated with bacteria, protozoa, parasites, viruses (micro-organisms) or other substances - which in turn can find their way into a private supply.
Deed continued: "If any farmers are particularly concerned, SafeWater offers a range of emergency water treatment systems which provide instant purification and can guarantee safe drinking water for no more than 1p per litre. The technology is available in bottles, jerry cans or tanks."