First metering accreditation awarded by Scottish Water
Scottish Water has announced that H2O Water Services is the first company to operate as an accredited Utility Connection Provider (UCP) in the retail market in Scotland. This will enable the metering company to approach companies licensed to supply businesses in Scotland (known as Licensed Providers) and offer them a range of metering services.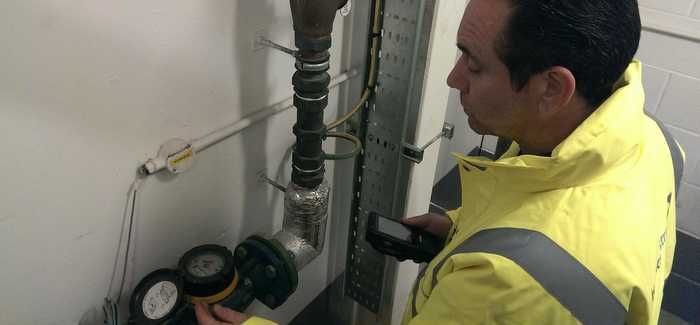 An H2O field operative in Edinburgh captures meter information on a handheld unit
The public utility says this is an important step that opens up another area of the Scottish retail market to competition. Currently metering services are provided only by Scottish Water as part of their role as the wholesaler to the market.
This has been the case since the introduction of the retail market in 2008. If a Licensed Provider wishes a new meter to be installed, a faulty meter to be repaired, to confirm the accuracy of the existing meter, to change the size or location of the meter, the Licensed Provider had to ask Scottish Water to perform the activity.
H2O currently reads every meter in Scotland for SW retail arm Business Stream and plans to move further into the deregulated market. It has been awarded partial accreditation by Lloyds Register, on behalf of Scottish Water, to carry out the metering activities listed within the Water Industry Registration Scheme (WIRS). In addition, both Scottish Water and H2O entered into an agreement allowing H2O to operate from August 2013.
John McCall, metering services manager, Scottish Water, said: "Scottish Water welcomes H2O as the first accredited metering provider as this allows Licensed Providers more choice to meet the needs of business customers in Scotland. H2O are now able to undertake metering activities subject to being offered the opportunity to perform the work by Licensed Providers who have signed the relevant Wholesale Service Agreement with Scottish Water.
"Metering activities are defined and listed within the WIRS. The scheme and supporting documents function as a code of conduct and operational guide for companies wishing to offer these services."
Matt Hardcastle, managing director of H2O commented: "Becoming the first UCP for metering in Scotland is an important step for our business and underlines our capabilities in this sector from a managed meter services perspective. We are delighted to have worked closely with Lloyds Register and Scottish Water to achieve this exacting and vital accreditation for our business and we look forward to now delivering services in the wider Scottish retail market."