Finalists announced for Institute of Water Innovation Award
Seven finalists have been announced for the Institute of Water National Innovation Award, which recognises innovative individuals and companies from within the UK water and sewerage sector.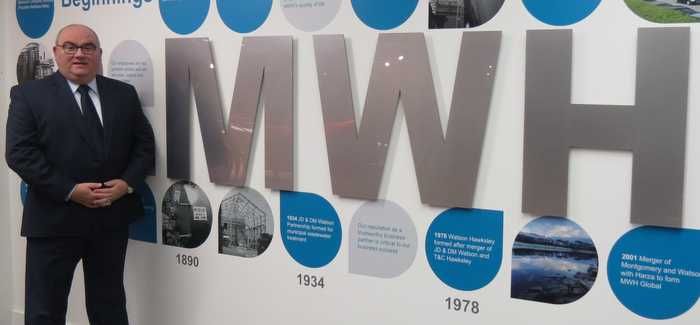 Paul Gledhill of MWH is part of the judging panel
The finalists have each won awards in their individual regions and have progressed to the national final, with the winner to be announced during the Institute of Water's Annual President's Dinner and Awards in May in Birmingham.
The award is sponsored by MWH. Paul Gledhill, Managing Director of MWH and part of the judging panel, said: "The standard of submissions last year was excellent making deciding upon a winner extremely difficult.  Given the depth of talent we have across the Industry and our track record for innovation I have high expectations that this year's submissions will be of a similar standard".
Cathryn Ross, Chief Executive OFWAT, who is also on the judging panel, added: "Water and wastewater services are vital for our economy, environment and wider society and innovation is key if this sector is going to meet expectations and strive for trust and confidence from customers. These awards are a great way of recognising and rewarding true innovation in the sector."
The seven 2016 finalists are:
Typhon Treatment Systems Ltd: Utility Scale UV LED Water Treatment
Typhon Treatment Systems Ltd. Is developing the world's first high capacity, utility-scale ultraviolet (UV) light emitting diode (LED) water treatment system. Conventional mercury lamp UV water treatment equipment is power hungry, is difficult to maintain, and contains toxic material. Typhon's technology uses up to 90 percent less energy, requires minimal maintenance, and uses no toxic mercury. Typhon is developing two product lines. One is for biological sterilization to protect against exposure to organisms like Cryptosporidium, and the second is to treat chemical contaminants like metaldehyde. Water and wastewater utilities in the UK and elsewhere have expressed strong support of our progress.
Severn Trent Water and Malvern Instruments: The Online Zetasizer – A ten year mission
This has been a 10 year mission for Severn Trent Water to change the way they optimise coagulation conditions during Water treatment: from using bench top zeta potential measurements at a number of our major surface water treatment works since 2008, and starting to working collaboratively with Malvern Instruments in 2010.  In 2014 the first online Zetasizer was successfully installed at Tittesworth Treatment works in the UK. This provides a fully automated sampling system generating online Zeta potential measurements relayed to and trended on the works supervisory control and data acquisition (SCADA) system, reducing chemical costs and water quality risk.
Northumbrian Water and South Tyneside Council: Partnership Working on Flood Risk Alleviation Scheme in Fellgate, Jarrow
The Fellgate estate is at risk of sewer flooding, Northumbrian Water's (NWG) responsibility, and surface water flooding, South Tyneside Council's (STC) responsibility. NWG and STC were separately investigating the issues at Fellgate and were working to different timeframes and design criteria. The partnership working between NWG and STC to create an integrated flood risk alleviation scheme which considered all flood risk issues on the estate and utilitied sustainable drainage techniques is an innovative approach to flood risk management. This provided better customer service, generated efficiencies, and created a sustainable scheme that offers wider benefits such as habitat creation, educational opportunities and increased health and wellbeing for customers.
South West Water, Area 1 Waste Water Services: An innovative and environmentally friendly method for weed and moss control upon waste water percolating filtration systems
Weed growth upon percolating filters within the sewage treatment process is problematic as growth can flourish with perfect growing conditions of constant nutrient supplies and media in which to establish strong root footholds. Historical clearance techniques are both time and labour intensive; if left unchecked weed growth can become significant enough to prevent the filter distribution arms from rotating allowing the filtration treatment stage to be short-circuited. The process becomes ineffective with undesirable results upon final effluent quality and ultimately the receiving water environment. An environmentally friendly and time efficient method for controlling weed growth was sought. A solution has been identified by the innovative use of existing Foamstream equipment.
Veolia Water Operational Services: Automated Biological Desulphurisation
Veolia is always exploring the current state of science and technology and how we can apply it to our facilities and sites,thus improving and developing the processes. One result of this approach has led to the adoption of an existing technology from the anaerobic digestion (food and animal waste) and biogas industry - Automated Biological Desulphurisation (supplied by Allison Engineering) - and applying it for the first time on a wastewater treatment plant, Allanfearn WwTW, serving the Inverness catchment. The control of this technology required to be modified to account for the differences in wastewater anaerobic digestion compared to waste anaerobic digestion sites. This technology has allowed us to reduce the hydrogen sulphide (H2S) concentration in the biogas produced, protecting the combined heat and power (CHP) engine.  This has increased the engines availability and allowed more energy to be produced thereby increasing the electrical self-sufficiency of the site and reducing its carbon footprint.
South East Water: Engineering: The use of eDNA survey technique at a programme level
The use DNA analysis to detect the presence of protected Great Crested Newts in ponds near to our projects. This cost effective, rapid and reliable method of sampling pond water for the DNA of newts brings many benefits over the traditional method of physically searching ponds at night to identify their presence.
This technique brings project level and strategic efficiencies, and for the future SEW and its framework partner, Jacobs are looking to extend the technique to identify other protected species meaning a win for SEW and a win for protected wildlife. 
Weed Wiper Trial Partnership (includes DCWW Catchment Team, Daltons and Natural Resources Wales - submission made by DCWW): Weed Wiper Trial – Brush The Rush
The Weed Wiper Partnership has successfully reduced the levels of pesticide in water abstracted for drinking.
For the first time the Water Industry, National Resources Wales and the Farming Industry have come together in partnership to tackle the level of pesticides in water; providing an extensive best practice awareness campaign with the offer of a free hire of a weed wiper, an alternative application method that reduces pesticide run-off reducing the use of MCPA by 1,220 litres in the target area.
Initial results show levels of MCPA across the catchment were 34% lower in 2015 than 2014; reducing treatment costs, benefiting customers and protecting the environment.
For further details visit: https://www.instituteofwater.org.uk/innovation-awards/