Final Tideway tunnelling machine breaks ground
Tunnel boring machine Selina at Chambers Wharf has broken ground on the final 5.5km stretch of London's super sewer - the Thames Tideway Tunnel.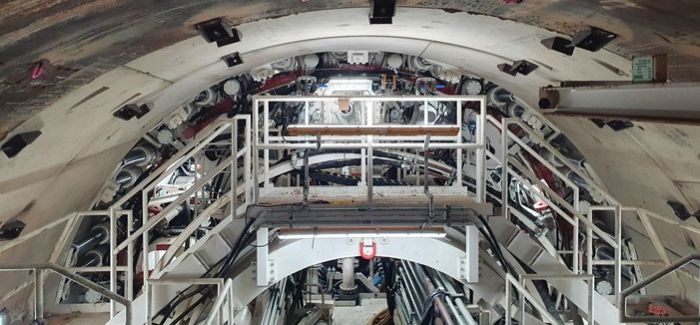 The machine is the last on the project to get underway journeying from Bermondsey to Abbey Mills Pumping Station and will complete the 25km-long Thames Tideway Tunnel under construction to intercept sewage overflows before they pollute the River Thames.
Selina was delivered to site last July travelling by water from Germany via the Netherlands and up the River Thames to the site near Tower Bridge.
Lowered more than 60m below the ground at Chambers Wharf, Selina will tunnel on a slight decline toward the pumping station in east London. Six TBMs have been used to create London's super sewer (with four already finished tunnelling).
The machine is named after Dr Selina Fox, who founded the Bermondsey Medical Mission in 1904. The small clinic and eight-bed hospital continues to this day as a local charity.
Also in Tideway news, a 250m-long connection tunnel has been excavated deep below ground from Tideway's Falconbrook Pumping Station site, linking the site to the main super sewer tunnel deep below the River Thames.
From the base of the site's drop-shaft, some 41m-below ground, the team used a sprayed concrete lining method to dig the tunnel. This technique involves spraying the excavated ground with concrete to form the primary lining.
At 250m, this is the longest connection tunnel on the project built using this method, and the final connection from a shaft base to the main tunnel on the central section.
Once the system is operational, raw sewage that has been dropped to the base of the shaft will run through the connection tunnel and into the new super sewer, where it will travel east to Beckton Sewage Treatment Works.
A concrete secondary lining will now be cast on top of the sprayed concrete lining to protect the tunnel against erosion when sewage passes through it.