FilterClear technology included in Anglian Water framework
Anglian Water has included Bluewater Bio International's (BwB) high performance multimedia filtration technology FilterClear in its Tertiary Solids Removal Framework. The contract is for three years, with an option to extend for a further seven.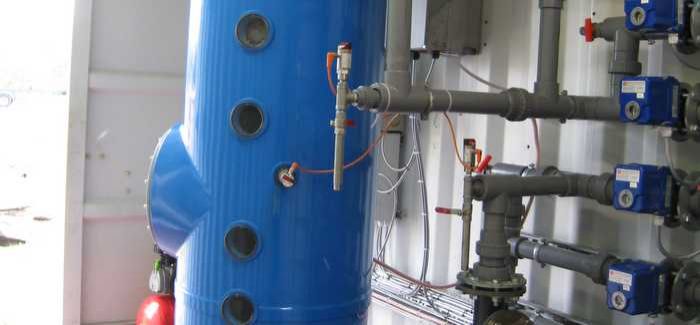 A FilterClear demonstration plant was operated at Cambridge STW
The technology is considered by Anglian as a potential alternative to MBR or conventional sand filters, where stringent solids performance is required.
A FilterClear demonstration plant was operated for four months at Cambridge Sewage Treatment Works (STW). Operational and water quality data was collected to show the effectiveness of the technology. In line with the National Environment Programme (NEP) to improve environment and water quality, there is a trend of increasingly demanding consent limits for discharging treated wastewater into water bodies.
Under the current AMP5, Anglian has sites with a Biological Oxygen Demand (BOD) consent below 10mg/l. Similarly stringent discharge consents are being widely adopted during AMP6, both at Anglian and across the UK. 
In the meantime, Ofwat's rigorous approach to price limits dictates that water companies' investment programmes have to select the most cost-effective technologies to achieve ever more stringent consents. Water companies are incentivised to deliver the most sustainable treatment solutions and, in order to achieve the required BOD standards with acceptable CAPEX and OPEX, Anglian Water, through the @one Alliance, is actively evaluating innovative technologies.
Daniel Ishag, founder and CEO of Bluewater Bio International, said: "This award, with one of the UK's largest utility companies, renowned for its robust R&D focus, represents our first framework deal in the UK. To be selected after undergoing such vigorous testing and validation at their Cambridge facility is further testament to the value proposition that we hope to replicate with many other water companies around the world.
"With stricter discharge consents coming into force, BwB is well placed to capture a significant proportion of Anglian's tertiary filtration upgrades as a result of both the positive trial and the framework itself. I look forward to working with the Anglian team and their delivery partners to meet these consents."