Fatbergs harbour resistant bacteria and parasite eggs - analysis
Fatbergs can harbour antibiotic-resistant bacteria and parasite eggs, forensic analysis for Channel 4 programme 'Fatberg Autopsy: Secrets of the Sewers' has shown.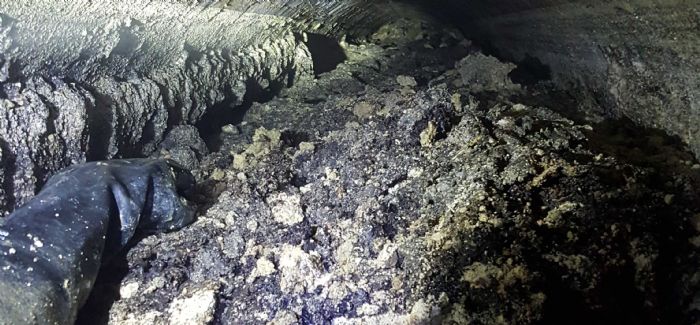 The programme, to be screened at 9pm on Tuesday 24 April, assesses a section of a fatberg underneath the streets of central London that is believed to exceed the size of the 130-tonne Whitechapel fatberg.
The study, carried out by Channel 4 in conjunction with Thames Water, showed cooking fat made up 90 per cent of the sample, which also contained condoms, sanitary towels, nappies, cotton buds and wet wipes. Other substances included prohibited gym supplements, cocaine and MDMA.
Professor Jo Hamilton and Dr Justin Pachebat, parasitology experts from Aberystwyth University, were commissioned by the BBC Science Unit to undertake a molecular analysis and look for parasites and bacteria.
Dr Pachebat said: "Three bucketloads of a fatberg from sewers under London's South Bank were delivered to us in Aberystwyth for the initial analysis. The project was fascinating and we soon realised that there were several biological 'layers' for us to work on.
"We found Campylobacter, E. coli and Listeria – species which are a common cause of food poisoning in humans – and some antibiotic-resistant strains of bacteria.
"We also found a number of personal 'items' within the fatberg including cotton buds and a female condom. Of course, as curious scientists, we plated these out too, checked for bacterial growth and found some interesting colonies."
Prof Hamilton added: "To our surprise, our fatberg analysis also revealed some parasite eggs which could potentially be one of two worm species, Alaria alata or Fasciola hepatica.
"These are interesting as they can infect both animals and humans, although in our case they were almost certainly from an animal infection. We also found nematode worms which were most likely non-parasitic."
When putting the Whitechapel fatberg on display at the Museum of London, curator Vyki Sparkes said handling the material had provided a major challenge, telling The Guardian: "Worst-case scenario if it is handled incorrectly is death. It has come out of the sewer so it might contain Weil's disease. One of the problems is you get all sorts of things that live inside it. One of our samples unexpectedly hatched loads of flies in store."
The Channel 4 programme will feature discussion of how fatbergs are formed, including the role of wet wipes, and Thames Water's Becky Trotman hopes it will lead the public to change their behaviour.
"Never before has a programme with the potential to change so many people's behaviour been on prime-time TV so it's an exciting time," Trotman said.
"This has all come about following the media frenzy around the Whitechapel fatberg which hit the headlines last autumn and although Thames Water and fatbergs have been featured in documentaries before this is totally different. Most of the filming took place in January and February so involved so cold dark nights and very long, wet days but it's been well worth it.
"We hope the show attracts a huge audience who will be inspired to think twice about what they flush away in future."