Erin Brockovich joins US water pollution campaigners
Celebrated water quality campaigner Erin Brockovich has addressed residents in the US state of West Virginia who have been affected by a chemical spill into their drinking water supply source.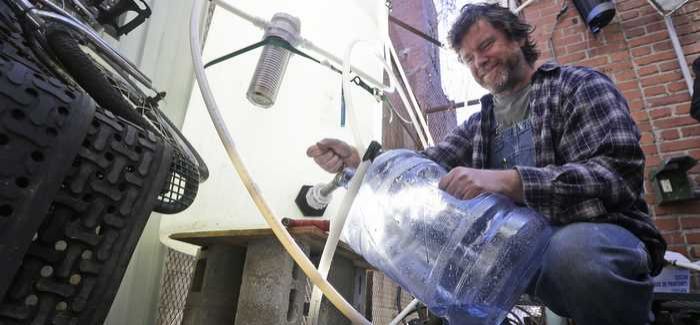 Restaurant owner Jonathan Steele fills a jug with cleaning water in the back of his restaurant in Charleston on January 14. Image: AP Photo/Steve Helber
More than 300,000 residents have been unable to use their water for drinking, cooking or bathing since 9 January, when the company Freedom Industries leaked up to 28m3 of 4-methylcyclohexanemethanol (MCHM), an agent used in coal extraction, into the River Elk.
West Virginia has lifted its ban on tap water for 6-10,000 residents, but the majority are still affected. Scores of schools and businesses have been closed, including in the state capital, Charleston.
Fourteen people are believed to have been hospitalised since the spill, but none was considered serious. Symptoms include nausea, vomiting, dizziness, diarrhoea, rashes and reddened skin.
It has been revealed that Freedom Industries' tanks do not fall under an inspection programme and the chemicals stored at the facility were not considered hazardous enough to require environmental permitting.  However, secretary of the Department of Environmental Protection Secretary, Randy Huffman has said that might change. One idea is to require tanks to be a certain distance from the river, he said.
Freedom Industries' president, Gary Southern, told a press conference on Friday: "We have mitigated the risk, we believe, in terms of further material leaving this facility."
Erin Brockovich, who was played by Julia Roberts in a film taking her name, helped win the biggest class action lawsuit in American history. Holding the Pacific Gas & Electric Company to account for polluting the town of Hinkley's water supply, Brockovich won US$300M for residents.
Her team is carrying out its own investigation into the West Virginia spill where she held a meeting at the town hall on Monday.
Speaking on the DemocracyLive website, Brockovich said: "We have found out that the last inspection that was done on this company and that tank farm was in 1991." She said of the West Virginian community self-organising in the aftermath of the spill: "They're banding together stronger than I've ever seen before."