Enviro-Clean's new water recycler does its bit for WaterAid
Waste management company Enviro-Clean (Scotland) is using its latest new Whale Tankers Kaiser- Whale continuous water recycler to raise funds for two leading charities - WaterAid and Breakthrough. The Kaiser-Whale, built on a 32-tonne Volvo Euro 6 chassis, is being used primarily in Scotland but is also deployed on work with some English water companies.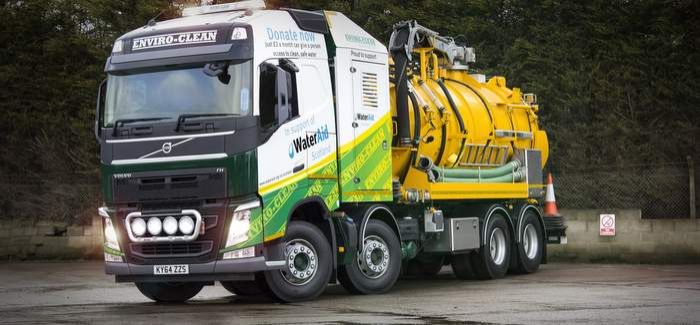 Enviro-Clean is donating money to the charities for every hour the vehicle is used
The Enviro-Clean Kaiser-Whale has been specifically branded to support the two different charities. One side of the cab is in white and promotes WaterAid, while the opposite side, in pink, is supporting breast cancer charity Breakthrough. The company is donating £1 (£2 in total) to each charity for every hour the vehicle is used.
Jim McLusky, managing director of Enviro-Clean (Scotland), said: "We decided that rather than simply having the vehicle in our own livery, we'd try and do something different to promote two very worthwhile causes, while raising some money for every hour the new vehicle is in operation. This idea has been very well received by our customers and we plan to continue with the scheme with new charities every 12 months."
The Kaisier-Whale features combined high performance jetting and vacuum operations with a fully integral filtration system to provide the required quantity of continuous water recycling. The vehicle has joined a fleet of more than 90 vehicles at Enviro-Clean.