Engineering apprenticeships attract disadvantaged students
A new apprenticeship scheme has attracted hundreds of applicants, many from disadvantaged backgrounds. The scheme, which is the first to give direct access to professional accreditation through a work-based route, has proved especially attractive to students from non-traditional backgrounds.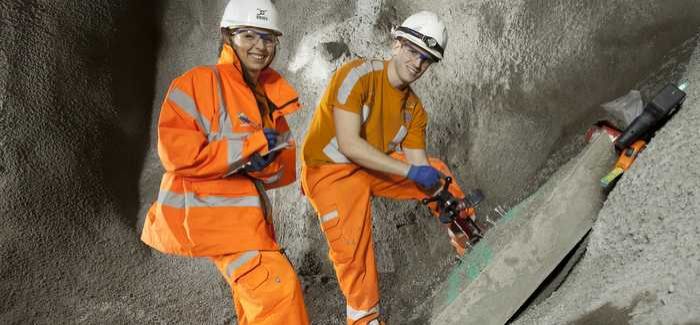 Engineering apprentices Regina Tumblepot (left) and Calvin Hall in the Crossrail Tunnel
In London this September, 80% of new recruits were from disadvantaged backgrounds and 67% from minority ethnic groups. The apprenticeships scheme was initiated by Technician Apprenticeship Consortium (TAC) in 2010 and later partnered with the Royal Engineering Academy (RAEng) to unlock and access pools of untapped engineering talent such as young women, people from minority ethnic and less advantaged backgrounds.
Philip Greenish, chief executive of the RAEng, said: "The UK needs more skilled engineers. The development and success of these apprenticeships will help meet increasing demand for qualified engineers by widening access to the profession while at the same time contributing to social mobility.
"Specific actions for employers seeking to increase their skills base are laid out in the TAC's report.
It is also good to see very similar recommendations in the recent Manifesto for Change published by the Social Mobility & Child Poverty Commission this October 2013, confirming that the consortium is heading in the right direction."
At an event hosted by RAEng on November 7, attendees heard that over the past three years, the scheme has grown from eight to more than 400 apprentices, whilst the number of companies participating in the TAC has risen from six to 30. TAC now has a model of good practice which involves a network of further education colleges, employers and professional engineering institutions.
TAC is a group of engineering consultancies that first came together in 2010 to develop Advanced Technician Apprenticeships in Civil & Building Services Engineering. TAC was founded in March 2010 by Mott MacDonald, which established a consortium of six of the UK's largest engineering consultancy firms, including Arup, Capita Symonds, Halcrow, Hyder, Mott MacDonald and WSP.
Currently there are two active Advanced Technician Apprenticeships, one in civil engineering and the other in building services engineering.  A third in transport planning engineering is currently in development. The Academy said this is a formula that works and could be applied to more engineering fields – and beyond.
Nelson Ogunshakin OBE, chief executive of the Association for Consultancy & Engineering (ACE), which administers the schemes, said: "It is clear to me that the optimism of ACE member companies, large and small, is tempered by a concern that they are finding it difficult and expensive to recruit and retain the highly skilled staff they need to deliver their projects. With an ageing workforce and a potential shortage of graduates the situation is only going to get worse. 
"The sector as a whole urgently needs to find new ways to access and train the next generation of professional engineers. These new apprenticeships open up routes for a pool of talent previously harder to tap."
Success stories
Regina Tumblepot: Regina joined the Advanced Civil Engineering Technician apprenticeship programme when it was first launched, with Morgan Sindall. She is working for the BBMV joint venture (consisting of Balfour Beatty, Morgan Sindall, VINCI Construction GrandsProjets and ALPINE BeMo Tunnelling) on the C510 Whitechapel and Liverpool Street Station Tunnels Crossrail project.
She has recently finished her apprenticeship and has also won the Crossrail Apprentice of the Year award, and was highly commended at UKCG's Apprentice of the Year awards.
She has sat her ICE EngTech review and will hear in early December if she has successfully reached the first step on her professional civil engineering career. Her next step will be to start a higher-level apprenticeship in civil engineering.
Regina said: "I have always enjoyed maths, science and problem-solving so I went to college and studied manufacturing and mechanical engineering. It was here that I discovered I had a love for engineering. I decided that this was to be my chosen career but opted for an apprenticeship as I wanted to gain experience on site while I was learning."
Calvin Mills: Calvin also joined the new apprenticeship scheme at the very beginning and is now a Higher Level Civil Engineering apprentice for Balfour Beatty, currently working for the BBMV joint venture on the Crossrail C510 project; the Whitechapel and Liverpool Street Station Tunnels.
He works at the Liverpool Street site and is involved in the underground engineering tasks associated with the SCL tunnelling works. He also works with the office-based team that is compiling the works package documentation.
Calvin recently completed his Advanced Civil Engineering Technician apprenticeship achieving the Grade D* Distinction, one of the highest in his class. He recently enrolled on the Higher Level Civil Engineering apprenticeship at the College of North West London; as part of this framework Calvin will complete a HND in Civil Engineering and a Construction Management Level 5 NVQ.
He recently sat his ICE EngTech review and will hear in early December if he has successfully reached the first step on his professional civil engineering career.