Energy savings achieved at Europe's largest sewage works
Europe's largest sewage works has saved £500,000 a year on energy costs by making changes to how it treats the waste of millions of Londoners.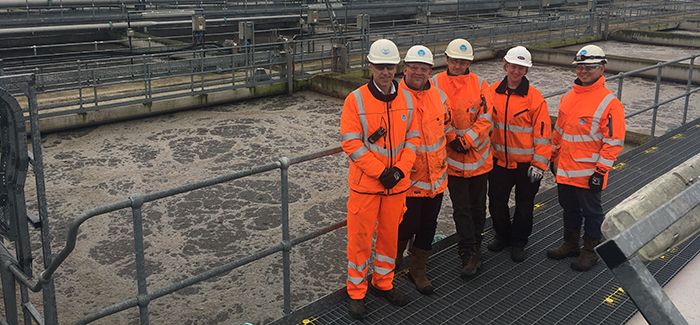 The Thames Water site at Beckton - which serves more than four million people in the capital - generates more than half the power it needs through its wind turbine and other renewables, but still buys in £9 million of electricity from the National Grid each year.
As a result, the team at Thames Water's north-east London wastewater operations looked at all the 300-acre site's machinery to identify potential energy savings.
Surprisingly they discovered that the newer aeration lanes in activated sludge plant (ASP) 4 had the greatest potential for energy savings. In these lanes, air is pumped in through dome diffusers at the bottom of the tank to help bacteria break down organic waste - but the process is incredibly energy intensive.
Savings were achieved by doubling the number of dissolved oxygen (DO) monitors to ASP4 and improving the efficiency of the blower that pumps air into the tanks. Continuously measuring DO ensures the right conditions for maximum efficiency and, when coupled with efficient blower control, big cost savings were achieved through reduced air consumption.
This real-time control equipment constantly monitors and adjusts the process to ensure it runs under optimal conditions using only the minimum amount of energy.
The air control valves on the lanes also seized, causing both over and under-aeration, resulting in process compliance issues. Over aeration wastes energy and brings more foam to the surface where it can get trapped and proliferate. The valves were changed for eccentric plug control valves which are better suited to the environment and last longer.
The team at Beckton also saved money by maximising electricity generation through its thermal hydrolysis process and its sludge-powered generator and are set to replace all 15,000 dome diffusers in ASP3.
David Fenech, Thames Water's operations manager for north-east London, said: "We are continuously looking for more ways to make the site efficient and make sustainable savings. As our electricity costs are significant, a small percentage savings represents a high value.
"ASP4 was commissioned in 2015 and therefore has already good built-in efficiency however the team soon realised during their initial investigations this is where surprisingly the greatest potential was to be found. We are monitoring the savings and forecasting a more stable process.
"We continue to monitor and keep looking for further savings across all our activated sludge processing plants: other initiatives that we have already made good progress on are dissolved oxygen monitoring maintenance and settled sewage improvements, as well as upgrading and re-doming activities on lanes within ASP3.
"It's all been part of our Team Beckton ethos. There have been so many people involved, all of who have worked tirelessly to achieve these great savings."