Efficiency improvements at NI Water save £12M
NI Water's annual report reveals that the public utility is operating more efficiently and delivering better customer service.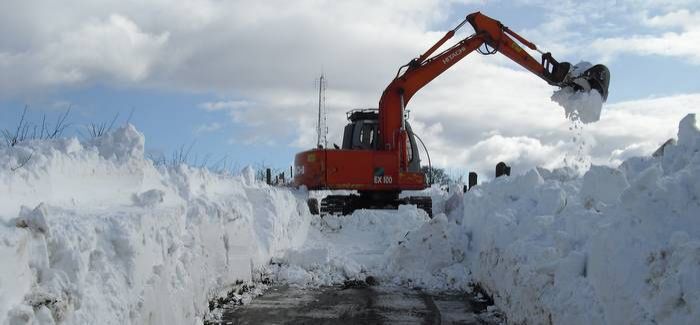 A tracked digger clearing the road to Slimero service reservoir, County Antrim, during exceptional snowfall in March
The company delivered a £12M reduction in its everyday running costs in 2012/13 and outperformed the PC10 operating costs by £20M. The company says it was able to cut costs through a range of measures, including voluntary redundancies.
A major restructure of the public utility's customer service operation, undertaken in response to severe water shortages in the winter of 2010/2011, has delivered the company's best ever levels of service for customers. However, the report shows that targets were still missed on water shortages and call response times, mainly due to exceptional snowfall in March which affected power supply and access to water infrastructure.
A new cross-utility plan for such emergencies was put to the test at this time and the water company worked with the telecommunications and power companies to share equipment, materials and manpower.
The company also reported the UK's highest leakage rate at 28%, but has also managed to beat its target of 168Ml/d, reporting 161Ml/d lost.
Head of asset strategy, Paddy Brow said, "There is still much more to be done to increase the capacity of the infrastructure and make it more resilient – work that NI Water looks forward to being able to progress in PC13 and PC15."
The average planned investment over PC10 was around £165M per annum and £168M is planned for PC13. Water mains investment includes progressing the Castor Bay to Belfast Trunk Main and completing the Castor to Newry link. The company says it is also working on complying with odour commitments at its sites.
Levels of asset maintenance are also expected to rise due to aging infrastructure, according to the annual report. The company is currently compiling an inventory of its above-ground assets.
Chairman, Seán Hogan said, "NI Water is delighted to present its annual report and accounts for 2012/13. Our focus over this period remained on prioritising customers through investing in our infrastructure, improving how we deliver our service and operating more efficiently."