Edinburgh aqueduct £2.6M upgrade completed
A major upgrade of parts of the 45km-long aqueduct used to supply most of Edinburgh's drinking water has been completed. The Talla Aqueduct, built in Victorian times, takes water from the Talla and Fruid reservoirs in the Scottish Borders to Glencorse water treatment works, which opened in 2012.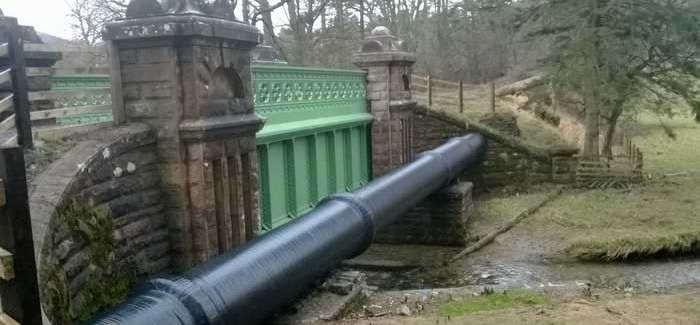 The Talla Aqueduct has to traverse several bridges
For most of its length the aqueduct runs as a tunnel, split by several bridges and siphons. It is capable of taking up to 127Ml/d. The tunnel sections are around 1.8m wide and 2.2m in height, with an arched roof.
The £2.6M upgrade involved repairs to bridges and some structural repairs to the aqueduct, as well as the installation of new valves and flooring in its chambers, helping to safeguard its future and the security of the water supply to customers in the capital. Work was carried out by contractor George Leslie and took ten months to complete. Before the project started thorough investigations took place to identify sections of the aqueduct which could benefit from upgrading.
Bill Elliot, Scottish Water's community team manager for Edinburgh and the Lothians, said: "The Aqueduct has stood the test of time and continues to serve the people of Edinburgh well, and this investment by Scottish Water – improving its internal fabric as a result of repairs, new valves and chamber flooring – will help ensure Scottish Water provide the best possible customer service for our Edinburgh customers in the years to come.
Project manager Simon Renton added: "Visual inspections of the tunnel and its associated chambers in recent years had identified the need to carry out some work to refurbish parts of the tunnel to ensure it could continue to serve the people of Edinburgh well into the future. The aqueduct and its function was maintained during the works to ensure continuous uninterrupted raw water supply to Glencorse Water Treatment Works.
"George Leslie Ltd and their piling sub-contractor MG Piling should be commended on their work to a critical raw water supply asset and their inventive use of a working platform arrangement for the piling."
Welcoming completion of the project, Councillor Lesley Hinds, transport and environment convener for the City of Edinburgh Council, said: "I'm delighted to see the completion of these vital works which will help safeguard the supply of drinking water to a large proportion of Edinburgh's residents and businesses."