edie's Sustainability Leaders Awards - entries close next week
Companies across the water and utilities sectors are invited to get the recognition they deserve for approaches to sustainability by entering edie's Sustainability Leaders Awards.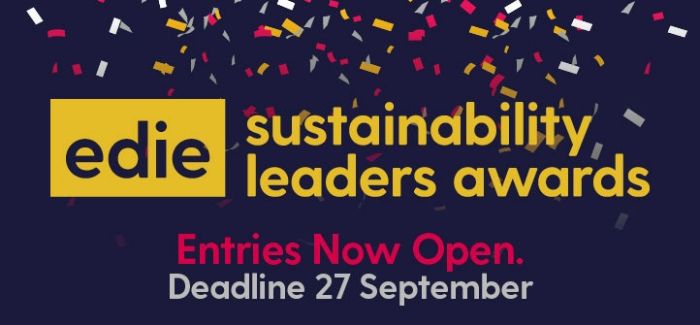 As sustainability and climate mitigation become increasingly business-critical issues, edie's 2020 Sustainability Leaders Awards offer individuals and organisations a golden opportunity to be recognised and rewarded for the progress they're making to achieve a sustainable future.
edie is the sister publication of WWT, and a number of categories provide water industry professionals with the opportunity to highlight how they have taken a leading role in future-proofing their business against the challenges of climate change.
The 2020 Sustainability Leaders are now OPEN for entries. The entry deadline is Friday 27 September 2019. The Awards will then take place on the night of 5 February 2020 at the Park Plaza London, Westminster. 
--- ENTER THE 2020 SUSTAINABILITY LEADERS AWARDS HERE ---
"I'm incredibly proud of this event," said edie's content director Luke Nicholls. "As the UK's largest and most prestigious sustainability awards scheme, we want to recognise and celebrate the people, projects and pioneering organisations who are together transforming business, for good. 
"With some exciting new categories, new judges and the introduction of some 'premier awards', we really can't wait to see this year's entries pour in, and to ultimately celebrate our new Sustainability Leaders for 2020."
The 2020 Sustainability Leaders Awards are open to organisations of all sizes from across the public and private sectors – from the largest multi-nationals to the smallest micro-organisations. As long as the initiative, project, product or strategy shows commitment, credibility and concrete results, we want to hear about it.
Of particular interest to the WWT audience are:
Building/Infrastructure Project of the Year
Team of the Year
Energy Management Leader of the Year
Transport/Fleet Management Initiative of the Year
Water Management
A full list of categories can be found here.