Echo wins £27M billing deal with NI Water
Echo Managed Services (EMS) is to deliver contact management, billing software and debt management services to NI Water for the next seven years. The £27M deal is one of more than 300 contracts overseen by NI Water's Operational Procurement team with a total annual spend of around £100M.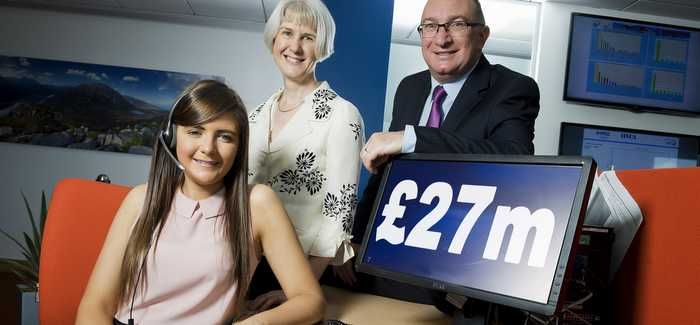 L-R: Call agent Rachel Craig, Jane Mellor and Jim White celebrate the new contract
Under the contract EMS will provide NI Water customers with improved access choices by expanding and enhancing the range of contact channels, making it easier for customers to get in touch when they need to discuss their accounts.
EMS' team will use its RapidXtra billing system, as well as a suite of state-of-the-art contact management technology, to provide a full range of multi-channel customer services.
NI Water's head of operational procurement, Jane Mellor, said: "We were looking for a company which would not only enable us to continue our focus on cost efficiency and value for money but will also put the needs of our customers at the centre of everything they do. 
"This is one of NI Water's most significant contracts and had an extremely detailed tender process to ensure we appointed the partner offering best value for money. We believe Echo Ltd. will help us to continue to provide the high level of customer service we require and our customers expect."
Jim White, head of service delivery at Echo, added: "Over the past seven years Echo has supported the delivery of a number of innovative customer service enhancements. We look forward to building our partnership further over the next seven years as we deliver further service improvements for the customers of NI Water including an enhanced web self-service facility, improved first contact resolution and a range of new customer experience measures."