Easier access for Tarmac's lime delivery 'milk round'
Tarmac is enabling milk of lime products to be delivered more easily to smaller or hard to reach locations in a single journey having unveiled one of the industry's first small scale liquid lime delivery vehicles.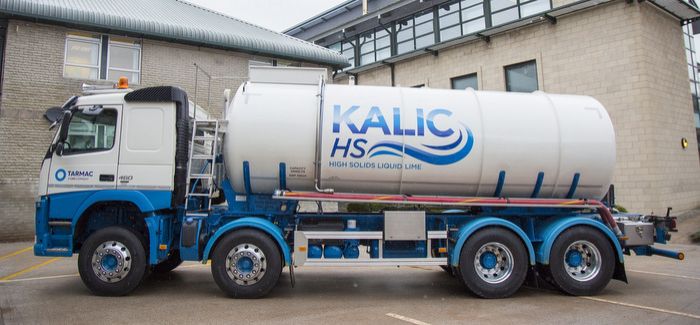 Milk of lime, a suspension of calcium hydroxide, is used to purify drinking water and neutralise wastewater from manufacturing processes. Tarmac has already started making deliveries of its Kalic and Kalic HS milk of lime to sites across the UK in a route dubbed the 'milk round'.  
The truck adds more choice for customers requiring smaller quantities of liquid lime, and supplements Tarmac's current supply offer through bulk tankers or in one tonne intermediate bulk containers (IBCs).  
The eight-wheeled vehicle can carry up to 18 tonnes of milk of lime and its shorter wheelbase makes it much more manoeuvrable, giving it easier access to smaller sites such as breweries, metal processing, drinking water, wastewater, sludge and effluent plants, or rural locations where larger tankers might not be able to gain access.
The vehicle also has state-of-the-art metering capabilities and adaptable nozzle built in, meaning that material can be delivered direct into a customer's silo or storage tank safely, quickly and efficiently.
Nick Thomas, Tarmac lime and powders logistics manager, said: "Many of our smaller customers require small but regular deliveries of milk of lime as they often have limited storage available on site. Our new 'milk round' allows us to regularly deliver fresh top-ups in lower volume deliveries without customers being restricted to taking small deliveries in IBCs. We're always looking for new ways to make operational processes easier, safer and more efficient for our customers and we're delighted to add this new vehicle to our fleet."
Richard Lomas, managing director of Lomas Distribution, said: "We have worked closely with Tarmac for a number of years now, and our investment in this new vehicle has helped to further strengthen our working relationship. We are committed to continuing deliver the most reliable and efficient service across the supply chain and we are certain that the new vehicle will help to ensure this."