EA tenders UK's largest flood risk management deal
The Environment Agency (EA) is inviting tenders from all over Europe to manage tidal flood risk in London and the Thames Estuary. The multimillion-pound contract will be the UK's largest flood risk management contract so far.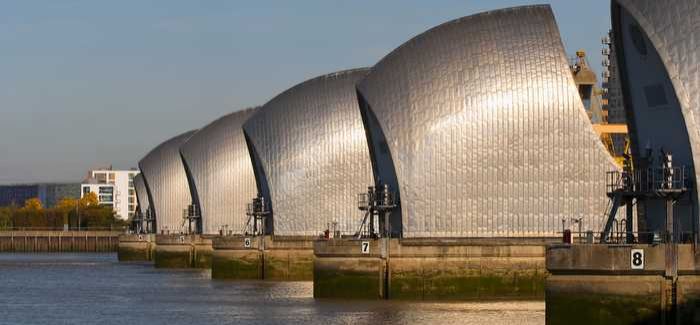 The Thames Barrier protects 1.25 million people and £200B-worth of property
The contract is for the Thames Estuary Phase 1 programme including projects to maintain, refurbish, and replace Thames tidal defences in London and the Estuary.
Wide ranging studies and investigations have been carried out to look at how tidal flood risk is increasing in the Thames estuary due to ageing flood defence structures; climate change and rising sea levels; as well as more people living and working in the floodplain.
The Thames Estuary 2100 Plan is the first major flood risk management project in the UK to have changing climate adaptation at its core. The Plan recommends maintaining, refurbishing, and replacing the tidal flood risk management structures and assets up to the end of the century.
The first ten years of this capital investment is the Thames Estuary Phase 1 programme, comprising capital works, including:
Major refurbishment works of fixed assets, such as tidal walls and embankments
Refurbishing works of active assets (including major flood barriers)
New assets such as pumping stations
Capital renewals and replacements
Packages of major or complex maintenance works, such as repairing long lengths or fixed flood defence walls or subsidence of earth embankments
This flagship programme is to be launched with an industry event on September 18 at the Thames Barrier.
Commenting on the programme, Peter Quarmby, Thames Estuary Flood Risk Programme director at the EA, said: "This is a major investment which will create jobs and protect future generations of Londoners from tidal flooding and the impacts of a changing climate.
"The Thames Barrier and associated tidal flood risk management infrastructure protects 1.25 million people, £200B-worth of property, UK government, major infrastructure and businesses. In London, every £1 we invest on protecting communities saves £38 in damage repair."