DWMPs 'should become compulsory' for drainage planning
Drawing up Drainage and Wastewater Management Plans (DWMPs) should become compulsory for wastewater utilities and other stakeholders by the time of the next price review in 2024, speakers said at WWT's Wastewater 2019 Conference in Birmingham.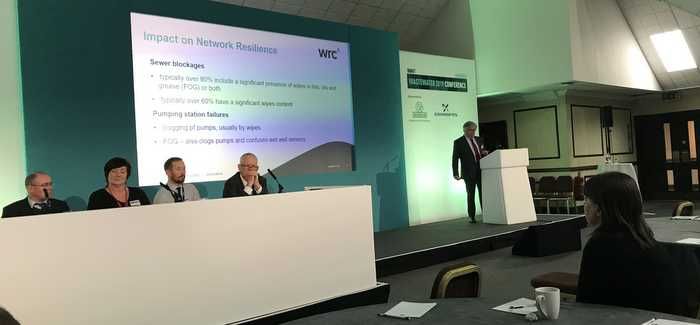 Drainage and Wastewater Management Plans are the new way for all concerned parties to plan for the future of drainage and wastewater. A framework for DWMPs – modelled on Water Resource Management Plans (WRMPs) which enable collaborative planning in the water resources sphere - was one of the main outcomes from the Water UK 21st Century Drainage Programme, which brought together water utilities, local authorities, drainage bodies and other stakeholders to how to solve shared challenges on flooding, sewer capacity, population growth and climate change.
The framework was published in September and Defra is now consulting on whether to make it compulsory to draw up DWMPs.
Mark Worsfold, Director of Asset Management at South West Water and one of the Water UK leads on the 21st Century Drainage Programme, told the Wastewater conference that DWMPs were still "in their infancy" and that there may still be issues to iron out. However he said that he would favour making them a statutory requirement at the first opportunity, since the enactment of the legislation could then be delayed until the time was right. "It is appropriate for it to be statutory beyond PR24, because it will give all stakeholders a duty to be involved," he told the conference.
He said that DWMPs would replace existing multi-stakeholder planning on drainage, which has adopted many different forms and was previously given 22 different names across the country. The framework was the result of 11 months work starting in 2017, and a steering group would continue to meet every six months to review it, noted Worsfold.
In an earlier session Trevor Bishop, former director of strategy and planning at Ofwat and now a director of Water Resources South East, said that DWMPs had a valuable role to play, especially since drainage and wastewater requires more integration and 'systems thinking' than water resources.
"I am not a believer that clean water has all the answers and it is just a case of transferring the planning approaches across to wastewater – I am glad the 21st Century Drainage Programme did not take that approach," said Bishop. He added that wastewater planning needed to be more local, was more complex in terms of the stakeholders involved and that there was less scope for large strategic projects to solve problems. Despite this he added that there had been some "great leadership" on DWMPs from the wastewater sector, and that this was reflected in how the approaches had been adopted by water companies in their current business plans when talking about resilience.
"Resilience planning is different, it is not just about systems, it is about collaboration, and as we go forward this will be the acid test," Bishop concluded.