Dutch WwTP to focus on Energy and Nutrient recovery
Waterboard Vallei & Veluwe (WVV) is transforming its Amersfoort Wastewater Treatment Plant (WwTP) into an an Energy and Nutrient recovery facility with a dominant focus on efficiency and sustainability.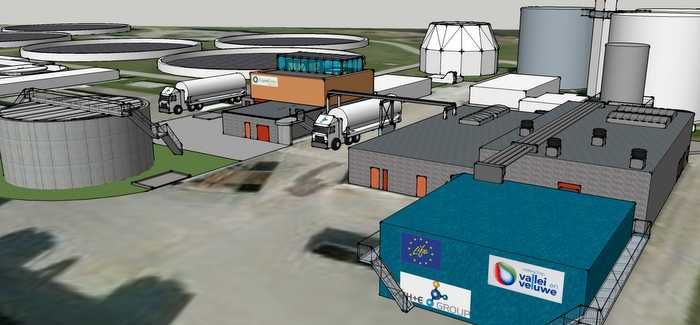 The green energy produced will be sufficient to treat all the wastewater from the City of Amersfoort on a 100% energy-autonomous basis
The project is supported by the EU LIFE+ subsidy program.
Dutch company WVV said the facility will centrally digest all sludges produced from treated wastewater from communities Amersfoort, Soest, Nijkerk and Woudenberg. By doing this, more biogas will be produced for conversion into green electricity.
The process of digestion will be enhanced with Thermal Pressure Hydrolysis (TPH) in order to increase the biogas production by "cracking" the sludge structures under high temperature and pressure.
The green energy produced will be sufficient to treat all the wastewater from the City of Amersfoort (150,000p.e.) on a 100% energy-autonomous basis. Also, a surplus of about 2,000,000kWh, which will not be used by the treatment processes, will be supplied to the national power grid. This is substantially sufficient to provide 600 households with green electricity during the year.
The digestion and sludge treatment processes will also produce waste streams that are rich of nutrients like phosphorus and nitrogen. The project will employ nutrient recovery technology from Ostara to recover and transform these nutrients into an environmentally responsible fertilizer called Crystal Green. The facility will produce around 900 tonnes of high quality fertiliser a year. With applications in the agriculture, turf and horticulture sectors, Crystal Green is European-certified in the category with the highest quality fertilisers.
In July 2013, the SH+E Group was awarded with a contract for the design, realisation and long-term maintenance of the project. The SH+E Group is cooperating closely with Dutch engineering and consultancy Grontmij (design); Hegeman (realisation works); and Canadian firm Ostara Nutrient Recovery Technologies (nutrient recovery and fertiliser production). As main contractor, the SH+E Group will supply and install all processes for treatment of the sludges, thermal pressure hydrolysis (Lysotherm) and the generation of heat and electricity out of the produced biogas.