Dutch Waterboard opens Europe's first commercial nutrient recovery site
Europe's first commercial nutrient recovery facility has officially been opened by the Dutch Waterboard Vallei & Veluwe, in partnership with Ostara Nutrient Recovery Technologies and Eliquo Water & Energy. The new facility proactively addresses national and European goals to promote a circular economy, and is part of the transformation of the waterboard's Amersfoort wastewater treatment plant) into an Energy and Nutrient Recovery Factory.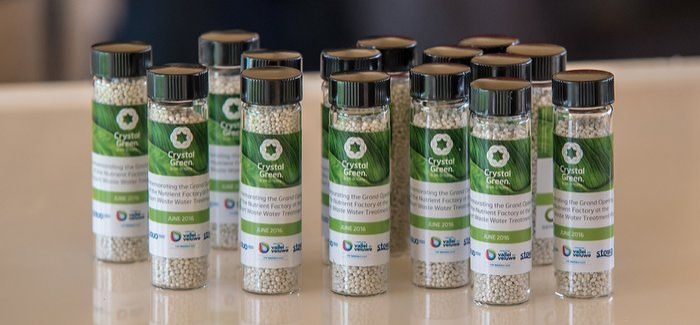 The new Energy and Nutrient Recovery Factory, supported by the EU LIFE+ subsidy program, features Ostara's Pearl nutrient recovery and WASSTRIP technologies where phosphorous and nitrogen are recovered to create a high value fertiliser from an existing resource with a process that is both environmentally and economically viable.
The facility was designed and constructed by Dutch company Eliquo Water & Energy, and also features its LysoTherm system that allows for an efficient, cost-effective and reliable disintegration of waste activated sludge (WAS).
While seven sewage treatment plants have been converted into "energy and nutrient facilities" in the Netherlands, this is the first to produce a "ready to use" fertiliser product, sold as Crystal Green.  
The waterboard's principal Tanja Klip-Martin advocated for changes to national and European regulations to help stimulate the use of recovered products from waste streams to support the principles of a circular economy, noting that the view on wastewater as a resource has changed fundamentally and is now seen as a sustainable source of energy and nutrients. "The key difference with the Amersfoort facility launched today is that a high value, ready-for-sale fertiliser product is being produced, ready for use on agricultural crops and in the turf and horticulture markets," said Klip-Martin.
"Vallei & Veluwe challenged market entities to provide the best economic affordable solution for transforming their Amersfoort facility into an Energy and Nutrient Recovery facility. Ostara and Eliquo have provided an exemplary solution to these challenges based on the combination of unique proven technologies which are integrated with maximum re-use of existing assets", said Dr Reinhard Hubner, chief executive officer of Eliquo.
Amersfoort WwTP is designed to treat more than 8,000m3 of water daily. It also acts as a regional sludge-processing hub for several WwTPs, and imports approximately 40% of sludge from other locations. With approximately 12,000 tonnes of dry sludge being treated annually, the facility was facing high operational costs for energy consumption and processing costs for sludge disposal. 
At the transformed Amersfoort WwTP, all indigenous sludge produced as well as the sludge produced at the Soest, Nijkerk and Woudenberg WwTPs will be centrally digested at the new facility.
The digestion process is being enhanced with Eliquo's Thermal Pressure Hydrolysis (TPH) system, called LysoTherm, to increase the biogas and related energy production. As a result, the new facility will produce enough energy to treat all the wastewater from the City of Amersfoort on a 100% energy-autonomous basis, as well as an energy surplus, enough to provide 600 households with green electricity during the year.
Operations and resource recovery are further enhanced by removing phosphorous from the liquid wastewater stream using Ostara's Pearl technology. The Amersfoort WwTP features one Pearl 2K reactor with the capacity to remove 85% of the phosphorus and up to 15% of the nitrogen from liquid wastewater streams. Ostara's WASSTRIP technology has also been implemented which turbo-charges the nutrient recovery process and increases the amount of phosphorous recovered by more than 60% for added operational and revenue generating benefits.