Duke pops in to see Southern Water's flagship treatment works
The Duke of Gloucester has popped in to see Southern Water's multi-award winning £300M treatment works in Peacehaven. He was opening a new park in the area yesterday and has asked to combine the trip with a visit to Southern Water's flagship site, which officially opened in October 2013.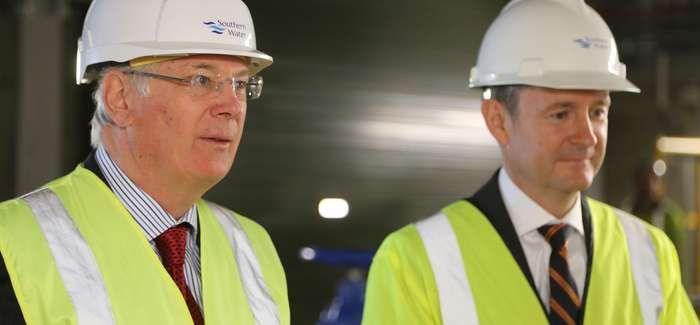 The Duke of Gloucester with Southern Water's Matthew Wright
During the tour, led by Southern Water chief executive Matthew Wright, the Duke met staff who run the site and heard how it treats 95Ml of wastewater daily from Brighton and Hove and surrounding towns. He was also shown the 18,000m2 green roof – one of the largest in Europe.
Other guests included pupils and teachers from Chailey Heritage School, which the site team has raised £6,000 for since 2013, the Lord Lieutenant of East Sussex Peter Field, High Sheriff of East Sussex Juliet Smith and chairman of East Sussex County Council Colin Belsey.
Wright said: "We are proud of our state-of-the-art Peacehaven works and it was an honour to host this visit by His Royal Highness The Duke of Gloucester. The Duke has an interest in architecture and is a fellow of the Institution of Structural Engineers, and seemed impressed with what he saw. This was recognition of the hard work that went into the construction of the site, as well as the day-to-day running of it."