Drone gives bird's-eye view of £63M Woolston WwTW scheme
A remote-controlled drone has provided a bird's-eye view of Southern Water's £63M project to transform the wastewater treatment works in Woolston, Southampton.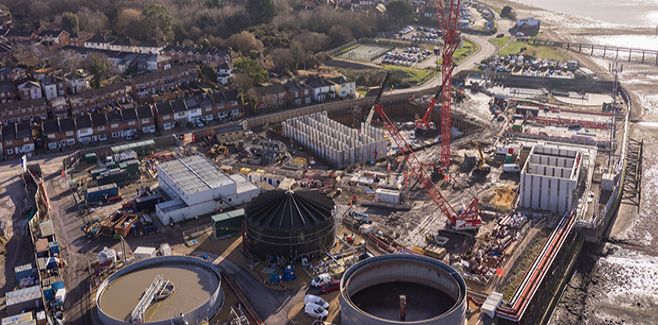 The company said the drone had captured the giant jigsaw-puzzle site, where a new treatment works is being built around the old existing works and a temporary area on land adjacent to the site. The major redevelopment at Woolston Wastewater Treatment Works is being carried out by 4Delivery.
Richard Hodgson, project manager at Southern Water, said: "This is a complex construction project, the end result of which will be a state-of-the art treatment works which will serve the Woolston community long into the future."
Since work began in 2014, the project has seen more than 2,000 crane lifts, more than 5,500m3 of concrete placed, and moved more than 4,700 tonnes of excavations cleared. A tower crane has been on site helping workers access different areas across the site.
Specialist contractors are now installing the mechanical process equipment and a concrete specialist is focused on installing pre-cast structures.
Water tests on the tanks are in progress to ensure there will be no leaks once wastewater is added.