Directional drill solution helps resolve leak under A38
An innovative solution involving directional drilling has helped Severn Trent overcome the problem of a troublesome leaking main under a main road near Derby.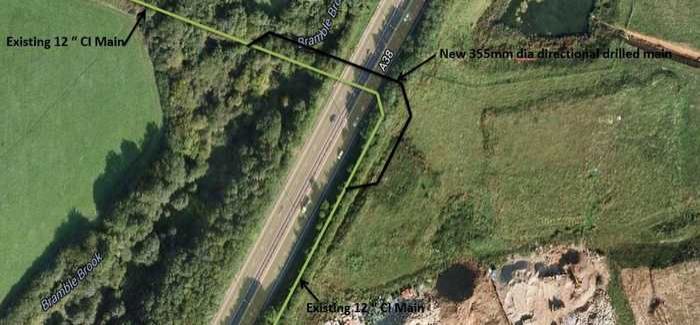 Several bursts in the Mickleover area of the city in recent years had been linked to problems with the 12-inch trunk main under the A38. However, rather than digging up the dual carriageway and causing a major headache for commuters, the company found an innovative way to solve the problem.
"We knew where the problem was but we really didn't want to have to close the A38 to complete the repairs that were needed," said Bob Taylor of Severn Trent. "We know how difficult that would have been for local people and anyone commuting into and out of Derby.

"After problem solving with a number of colleagues and our contractor, Morrison Utilities Services, we found we could use a drilling rig to put a new pipe under the road to bypass the leaking section.
The directional drill was used to put in a new 14-inch diameter plastic pipe under the full width of the dual carriageway, bypassing the leaking section of the original pipe. Customers in the Mickleover area will now benefit from a reliable new pipe without interruptions to supply, while motorists and local people were not inconvenienced by the work.
"I'm delighted to say we were able to complete the work safely and with absolutely no effect to either traffic or water supplies to our customers," added Taylor. "I'm pretty sure no-one realised what was going on.
"This was a really innovative solution to improve water supplies in the area and it's great that we were able to complete the work with such little impact on the local community.

"This kind of drilling isn't possible in all areas but it's certainly an option we will consider again for other projects in the future."