Desalination underpins Middle East water pact
A desalination plant in Aquaba, Jordan, is the main initiative of a regional cooperation agreement on water resources signed at the World Bank on December 9, 2013.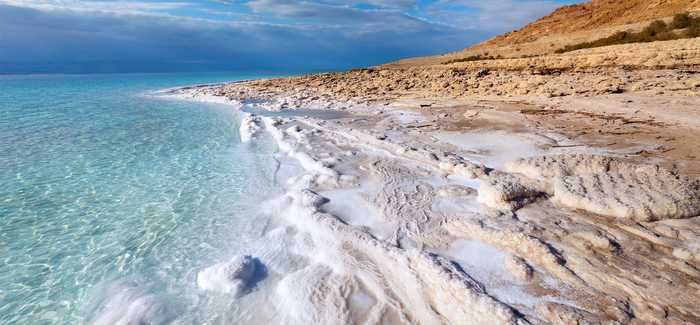 Brine from the new desalination plant at Aquaba would be brought to the Dead Sea which is declining by about a metre a year
Israeli, Jordanian and Palestinian water ministers agreed to support the shared management of scarce water resources and the joint development and use of new water resources through a Memorandum of Understanding (MoU).
The main initiatives include:
The development of a desalination plant in Red Sea port Aqaba, in Jordan, with the water produced to be shared between Israel and Jordan
Increased releases of water by Israel from Lake Tiberias for use in Jordan
The sale of about 20-30Mm3/year of desalinated water from the Israeli water utility Mekorot to the Palestinian Water Authority for use in the West Bank
In addition, a 180km pipeline would be constructed northwards to channel 100Mm3 water from the desalination plant at Aqaba to the Dead Sea for a pilot trial to study the effects of mixing the brine with Dead Sea water
The trial pipeline alone will cost at least £180M, according to Israel's Minister of Energy & Water Resources, Silvan Shalom. In January the World Bank said it was feasible to build a full-scale pipeline from the Red Sea to save the Dead Sea at a cost of £6B.
Environmental groups have criticised the plans. Friends of the Earth Middle East says that the brine transfer project is not feasible and has called for an environmental study on alternatives.
The World Bank says that in order to proceed with these actions, especially the desalination plant at Aqaba, technical work and studies will need to be undertaken.
Speaking at the signing, Inger Andersen, World Bank regional vice-president for the Middle East and North Africa, said: "I am pleased that the long-term engagement of the World Bank has facilitated this next step by the three governments, which will enhance water availability and facilitate the development of new water through desalination."
Silvan Shalom said: "It gives a glimmer of hope that we can overcome more obstacles in the future."
"We showed that we can work together despite the political problems," said the Palestinian water minister, Shaddad Attili.