Degassing technology wins Water Dragons heat at Utility Week Live
A piece of technology which removes nitrogen bubbles from activated sludge floc won the day in the Water Dragons competition, held at the Utility Week Live exhibition in Birmingham.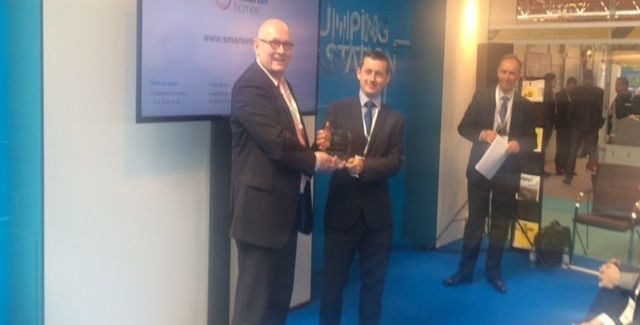 Glan Agua's Julian Drapiewski (right) receives the award from FWA's Paul Horton
Glan Agua's Mixed Liquor Vacuum Degassing (MLVD) technology was chosen as the winner from the four presentations in the competition, which was organised by the Future Water Association and sponsored by Hydrosave.
Glan Agua's MLVD impressed the judges with its ability to remove gas and enable quicker settling in sewage treatment plants, hence boosting efficiency and allowing the plant to operate at higher suspended solids concentrations.  
Highly commended was Agily's collaborative goal management app, for managing the workload and allocating tasks within mobile teams. The other two featured technologies were Controlpoint's Bead Diagnostic Instrument (BDI) which offered a non-destructive method of testing the jointing in polyethylene pipes, and Smarter Homes' WaterOn, an automated and wireless metering system for apartment blocks.  
The competition, which was one of a number of regional heats run by FWA in a national competition, is based on the format of television's 'Dragon's Den'. It was judged by Alastair Moseley (Future Water Association), Steve Kaye (Anglian Water) Simon Dray (Hydrosave) Bob Stear (Severn Trent) and Nick Cliffe (Innovate UK).
Julian Drapiewski, Technical Director at Glan Agua, said: "We are delighted to win. Mixed Liquor Vacuum Degassing harnesses relatively simple technology to bring the power of physics into wastewater treatment and can help provide a much higher level of efficiency. There has not been much innovation in the activated sludge process in the last 20 years so this is a technology whose time has come."
Chair of the 'Dragons' Alastair Moseley said: "With phosphate removal and pollution from sludge carry over being big challenges for water companies, we were impressed by this technology which has a small footprint, is easy to install and has great market potential."
Simon Dray, MD of sponsor Hydrosave and another of the Dragons, added: "The standard of the competition was extremely high, and the diversity of the entrants made it all the more interesting for us. It's great to see so many innovative new products, services and processes on view, and congratulations to Glan Agua on a deserved win."