Deephams wins ICE 'Greatest Contribution to London' award
Thames Water's £250 million Deephams sewage works upgrade won the 'Greatest Contribution to London' trophy at the ICE London Civil Engineering Awards.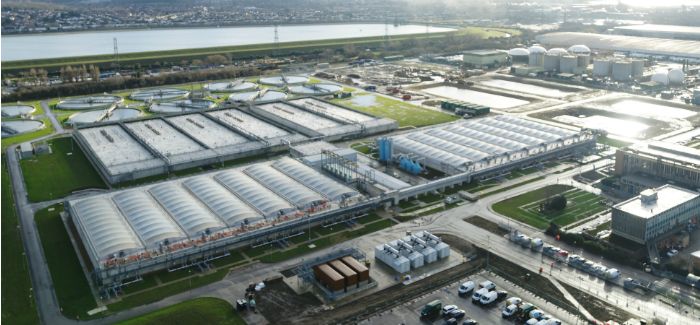 The project, carried out to enhance the region's rivers, significantly reduce odour and cater for population growth, was recognised for its creative, sustainable and innovative thinking at the capital's Institution of Civil Engineers Awards, which celebrate outstanding civil engineering achievement and ingenuity in London. 
The winning project is supporting the natural and built environment by improving the quality of treated water returned to the River Lea, which meets the Thames, while achieving a 99 per cent reduction in odour emissions, by covering key parts of the works. 
Martin Hoff, Thames Water's head of major projects, said: "We're delighted and honoured that our complex engineering work has been recognised by the ICE and this prestigious award. Rebuilding and upgrading a live works could not have been achieved without the teamwork and collaboration developed and honed with our partners AMK throughout the project. 
"Our aim was always to contribute a sustainable and innovative upgrade for the benefit of Londoners and we're very proud to have achieved this." 
Deephams sewage works, in Picketts Lock Lane, north London, treats the wastewater from around one million customers in the area and the three-year upgrade had to be carried out without disrupting essential day-to-day operations. 
Jonathan Baggs, ICE London director, added: "In a year which the ICE is highlighting the need to protect water and improve our resilience as a society, I am delighted that the Deephams project team were recognised with the Greatest Contribution to London.   
"The project shows the exceptional work of civil engineers, using innovative design and construction, to overcome the complexity of upgrading this important piece of infrastructure and safeguarding it for future generations."   
Deephams won ahead of Chiswick Park footbridge, Coal Drops Yard, Hackney Wick station redevelopment, Meridian Water Station, Terminal 3 Flight Connections Centre, Heathrow Airport, Thames Estuary Asset Management 2100, University College London Student Centre, Victoria Station upgrade and Woolwich Ferry new berths. 
Judges were impressed by the emphasis on sustainability practices, including the reuse of clay and gravel in earthworks and the recycling of demolished concrete to help support new structures, and "exceptional" level of teamwork to deliver complex technical solutions. 
Work was completed in November 2018 and improvements to the quality of the final effluent leaving the works are now having a positive impact on the downstream river environment and aquatic life.
The project has also increased renewable energy generation on site from a new combined heat and power plant and reduced the footprint of the works by a third, leaving space for future resilience plans and a growing population.