Dee Valley begins £14M Wrexham pipeline project
Dee Valley Water, which supplies customers in Wrexham and Chester, has begun a £14M scheme to tackle the problem of discoloured water experienced by some of its customers in Wrexham.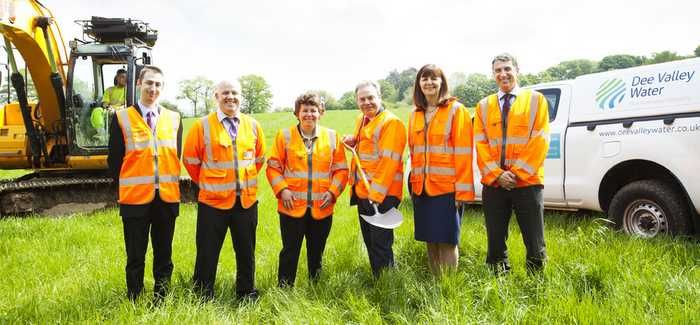 (L-R: Oliver Twydell, Stuart Owen (Dee Valley Water), Susan Elan Jones MP, Ian Lucas MP, Lesley Griffiths AM, Ian Plenderleith (CEO, Dee Valley Water)
The discoloured water issue is the result of manganese in the treatment process at the company Legacy Water Treatment Works on the outskirts of Wrexham. Dee Valley Water had originally planned to rebuild the treatment works, but later came up with a new plan which it says is a more outcome-based, resilient and cost-efficient solution.
The new project involves the building of an 8.5km new trunk main which can take high quality water from the recently rebuilt Llwyn Onn treatment works and put it into the network around the Legacy works. The new plan will achieve the original outcome of higher water quality, but also deliver additional benefits to customers. The installation of new connections to neighbouring water companies and the requirements to put new pumping stations in place will allow greater transfers of water within the system and from bulk imports.
The new network configuration means that customers will receive high quality water through a system that is more resilient than the current network, allowing for greater operational flexibility and improved availability of treatment works. The scheme is also cheaper than the original upgrade plan, which was set to cost £17M.
Dee Valley Water CEO Ian Plenderleith said: "We have worked closely with our stakeholders and Customer Challenge Group to ensure that the alternative plan offered a better solution to our customers and we thank them for their support in this process. Overall the plan forms part of our longer term vision of a simpler, high quality, reliable supply for our local customers.
"This is good news for our customers in the Wrexham area. The first phase of the scheme is the installation of the new main providing a logical and cost-effective solution to a problem which has affected some customers for too long," said Plenderleith.
The work has now commenced and will run through to late December 2017 where the new 600mm trunk main will be laid using traditional open trench work. Directional drilling will also be used in places to minimise the impact on the environment.
Local MPs, Ian Lucas and Susan Elan Jones together with local AM, Lesley Griffiths led a sod turning ceremony on Friday to mark the commencement of the programme, which will benefit more than 43,000 customers.
AM Lesley Griffiths said: "I am grateful to Dee Valley Water for inviting me to their opening ceremony to help launch their new, major investment scheme.  It was interesting to hear about their latest development and plans for the future." 
"Wrexham certainly benefits from having a water company which is locally-based and focused on the community, and Dee Valley Water's multimillion pound investment will enable them to offer an even greater service for people in and around Wrexham."
MP Ian Lucas said "I was delighted to attend the launch of Dee Valley Water's local capital project, investing £14 million in improving water services and providing local jobs and skills development as they do so. This is just the type of responsible investment we need to see - and all on a beautiful day!"
Dee Valley Water has for some time been carrying out a number of measures to reduce the discolouration. These have included flushing pipes and the use of the 'ice pigging' mains cleaning technique. This has substantially reduced the number of discolouration incidents.
Following the completion of the £14M scheme, which is one of Dee Valley Water's largest to date, the company will be better able to utilise its raw water reservoir sources. It will also reduce the need to pump water from the River Dee.
"Customers will benefit from a more reliable, efficient and environmentally friendly scheme which will provide a higher quality water supply at a reduced cost. Long term, this should result in lower bills for our customers," said Ian Plenderleith.