DCWW to spend £4.5M on Rhyl and Kimnel Bay wastewater network
Dŵr Cymru Welsh Water (DCWW) is investing £4.5M to deliver major improvements to the wastewater network in the Rhyl and Kinmel Bay areas. The scheme will involve renewing the existing sewer main from Marine Lake pumping station in Rhyl to Kinmel Bay wastewater treatment works.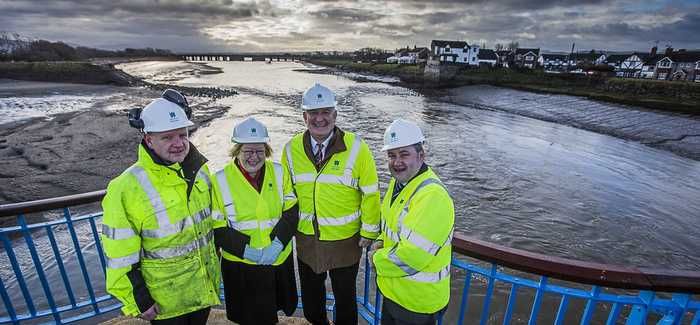 Marking the start of the project at the River Clwyd
The project, which will start in March and take ten months to complete, has been prioritised because of operational issues on the main over the past few years.
It will involve the construction of a 4.2km sewer main to replace the existing one. The scheme will also include replacing a pump within the pumping station at the Marine Lake and improvements to the Green Avenue pumping station, which are integral in order to take the raw sewerage from the wastewater network and transfer it to the wastewater treatment works in Kinmel Bay.
The scheme presents many challenges to DCWW as the new main will need to be laid beneath the River Clwyd passing from Denbighshire into Conwy and will then need to pass under the railway line. The company has worked closely with Network Rail to ensure this section of work will meet all regulations required.
DCWW capital delivery manager Arwel Jones said: "We have carefully planned the scheme to ensure we minimise disruption on local communities and also liaised with local businesses to ensure they are aware of our plans also. Whilst we are working there will be no impact on the wastewater services to local people".
During a visit to mark commencement of the project, Darren Millar, Assembly Member for Clwyd West, said: "The benefits of the renewal of this sewerage main are important to my constituents in Kinmel Bay, many of whom have had to ensure the consequences of burst pipes in recent years. This work will put an end to those problems once and for all."
Ann Jones, Assembly Member for Vale of Clwyd, added: "The start of this scheme marks a major milestone to the improvements in the wastewater network and will benefit local communities for many years to come."