Danish company explores 'disruptive' robotic technology for WwTPs
Danish water company Aarhus Vand is working with Blue Ocean Robotics to develop robotic technology for wastewater treatment plants.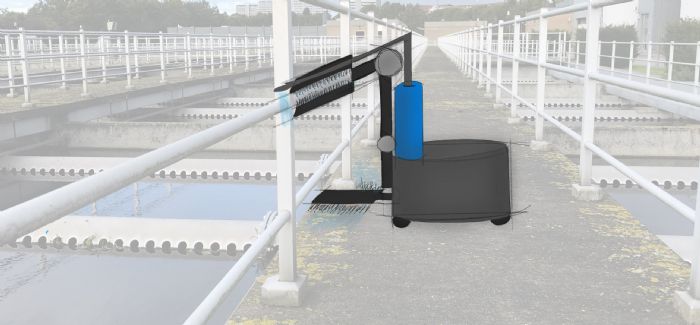 An illustration of a robot operating at a wastewater treatment plant
They intend to investigate how the work environment, productivity and resource utilisation can be improved in the wastewater industry, not just in Denmark but globally.
The Robi-X partnership is looking at drone technology for inspection of wastewater basins and sewage systems as well as robotics for the maintenance of outdoor areas at wastewater treatment plants and reducing heavy lifting at the plants.
With the city of Aarhus seeing population growth of 5,000 people a year, Aarhus Vand's innovation manager, Karsten Lumbye Jensen, said action was required.
"Due to the strong population growth in metropolitan areas, we need to consider sustainability and create disruptive technology, also in the wastewater industry," he said. "Ahead of us lie big challenges such as climate change and lack of resources, and therefore we need to carefully consider how we can do things differently with the help of innovation and new technology.
"In the partnership with Blue Ocean Robotics, we have merged robotic technology and sustainability which has resulted in new and exciting perspectives that also have an export potential. The know-how and products we develop in Aarhus will definitely be applicable in other parts of the world."
Blue Ocean Robotics CEO Claus Risager added: "The wastewater industry is an industry where robot technology has had little impact so far. In collaboration with Aarhus Vand, we will develop innovative solutions for efficient operation and maintenance of wastewater treatment plants.
"Our RoBi-X partnership model provides a great starting point for the development of new scalable solutions for the wastewater industry, where innovation and end users are in focus."
Aarhus Vand said it plans to decide which of the potential robotic solutions it will develop further soon.